Boycott...Trinidad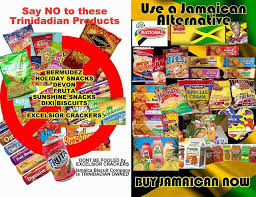 Kingston, Jamaica
April 24, 2016 2:27pm CST
For awhile Trinidad has been making life very hard for Jamaicans. Although we are supposed to be in CARICOM, (sort of an E.U.) Jamaicans are harassed at the airports, and many, refused landing. Some might be students, trying to attend the branch of the University of the West Indies, some might be visiting friends, others, tourists. But they are turned back. Trinidadian goods load the shelves in Ja. If you walk up an aisle there are so many Trini goods that if you don't read the labels, you'll go home with Port of Spain. Despite the Ja market, Trinidad is as hard to get into as America. Now for years, I've been reading labels, and I don't buy Trini goods. The only thing I do purchase is the coconut oil, since it is 1/5th the price of local. And not all the time. Maybe if enough of us in Yard stopped buying Trini goods, they'll treat us better.
3 responses

• United States
24 Apr 16
I think that the people of Yard should boycott those Trini goods. Hopefully, that will make for better treatment of the Jamaican people. I also look for made in the USA good to buy. Guess we all have to do what helps the citizens of a country.

• Garden Grove, California
24 Apr 16
@tallawah
tell me about chinese crap they made the transistors in my old momnitor and they burned out leaving me to have to buy a new monnitor becase ther products are cra p

• Pittsburgh, Pennsylvania
24 Apr 16
@corbin5
so do we! WE always look for made in American if possible! My brother in law won't buy it i think if it is not American made!


• Garden Grove, California
24 Apr 16
I am sorry to hear that That seems very unfair to me too I did not know that America was hard to get into I su ppose its because of all the terrorists attachc. sorry to hea that aout my country.

• Garden Grove, California
24 Apr 16
@tallawah
that is sad as all the mylotters I have met here from Jamaica are the nicest people


• Bunbury, Australia
24 Apr 16
Is there any particular reason why you're not welcome in Trinidad?