Question for all Walking Dead fans...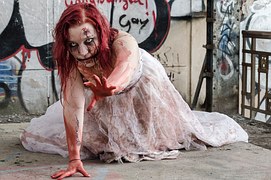 Rochester, New York
April 26, 2016 12:47pm CST
I hope this question doesn't offend anyone who uses walkers to help them get around... In the show if you get bitten by a walker then you eventually turn into one after about an hour or so. My question is.. If your older and you use a walker to get around and you get bitten by a zombie.. do they still need that walker to help them get around? You never see any using any kind of device to help them get around, but then again I have never seen an older zombie, they're mostly young folks or kids that you see getting hurt. Now there are walkers who are crawling around on the ground, I'm wondering if they just fell and can't figure out how to get up or if they were originally folks who were in wheel chairs or using walkers to help them get around.
3 responses

• Los Angeles, California
26 Apr 16
I have seen walkers without limbs crawling and others dragging themselves along. That condition can be from a variety of reasons. On Z Nation, they had a zombie baby and zombie grizzly bear.

• Boise, Idaho
26 Apr 16
I see it this way-- When a person is bit they continue the way exactly as they are when bit but their full attention is on eating and eating only.. I think the walker with the walker wouldn't last very long, however. They are so emasiated as zombies that I think they would just pop into dust and disappear.

• Ciudad De Mexico, Mexico
26 Apr 16
That is what all TV shows are about. TV shows are made for the masses whom account for more younger audiences than old ones.