Two Zombies in Stalking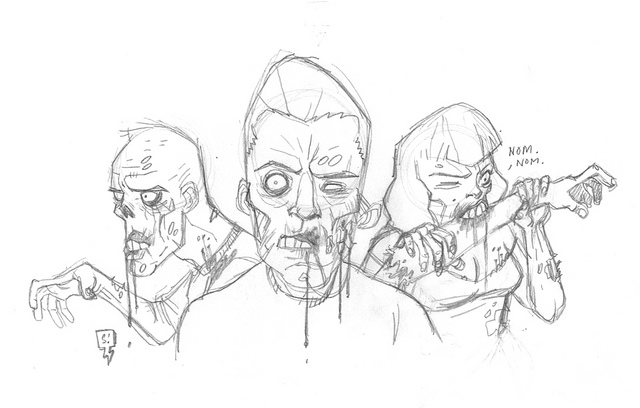 Ciudad De Mexico, Mexico
April 28, 2016 12:18pm CST
One lonely street, two standing crowd What are my eyes peeking Two scruffy homeless people There, they were strolling, zigzagging from one side to the other in opposite direction to me. In my mind, I envisioned the zombies which I had read from a discussion yesterday on Mylot. The one that impacted me the most was the one that got killed by his drinking companion while watching, ¨The Walking Dead.¨ Even though I have only watched the TV series a few times, I can still remember the beings walking strangely with gone eyes and dead pale faces. These two creatures that scared me this morning were not real zombies, but a couple of drunken homeless people who if were invited to participate in a TV show about zombies would not have had to wear special attire but the one they were using at this time. Have you ever been scared in real life after watching a scary TV show?
3 responses


• Ciudad De Mexico, Mexico
28 Apr 16
Yeah, probably, they were filming a series of the zombies and I just happen to walk by. I would like to watch these kind of TV series; however, I don´t have a TV!


• Svalbard And Jan Mayen
28 Apr 16
@quantum2020
I quite never watch it. I have changed of ISP, and the new one offers several movie and sport channels for free during 2 months, and I have not connected yet the TV box

.

• Ciudad De Mexico, Mexico
28 Apr 16
@topffer
Sorry to hear that. I can watch a bit of the show on youtube and imagine the rest.



• Preston, England
28 Apr 16
not scared myself no - pretty appalling exploiting the homeless for zombie shows - lots of people would happily appear in them anyway

• Ciudad De Mexico, Mexico
28 Apr 16
Yes, many would like to get a profit from appearing in one.


• Ciudad De Mexico, Mexico
28 Apr 16
Oh, yes I see! I have also being scared by aliens and UFOs!!