5 more free things from AMZreviewtrader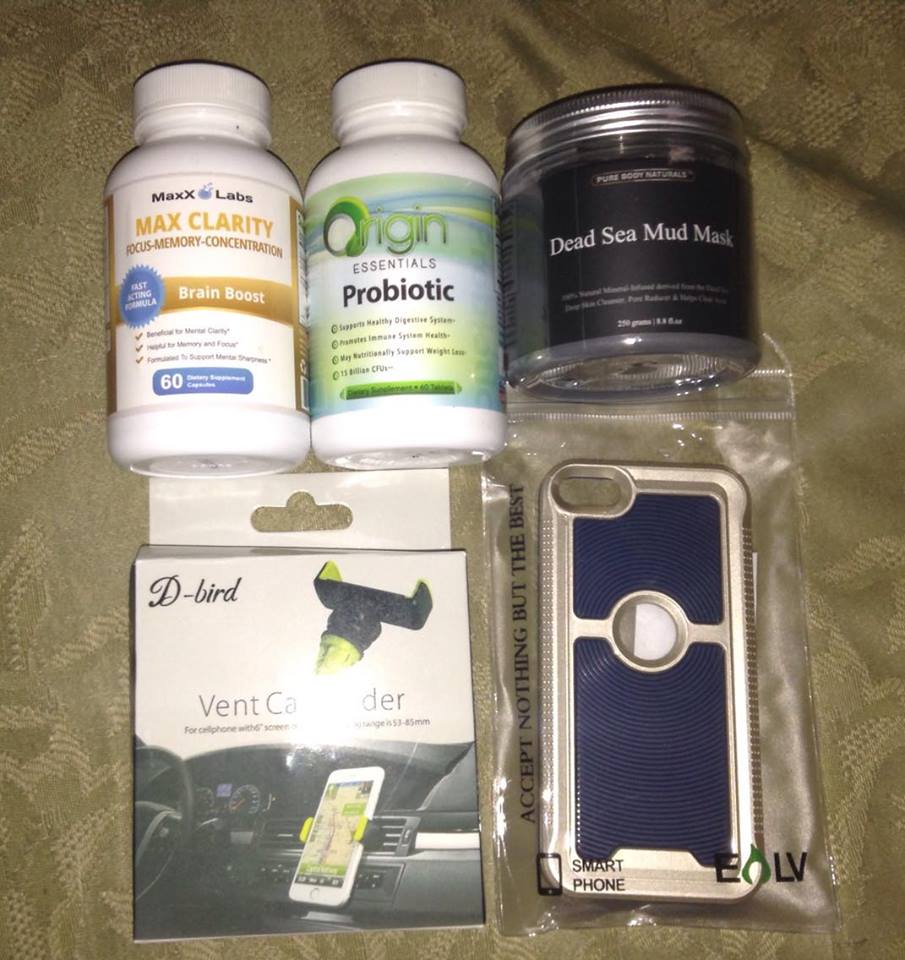 United States
April 28, 2016 2:15pm CST
A few days ago I got a 5 more things to test out and review for free on AMZreviewtrader. I am really happy to get to try these things out. I added a photo of what I got. My daughter and I had fun last night trying out the Dead Sea Mask. Each morning I have been taking the Probiotic and Brain Boost pills. The thing I was most excited to get was the ipod touch case. Now that I have my van back I can try out the Air Vent cell phone holder. I am trying to decide if it will be worth it to buy Amazon Prime for the year. They add new things to AMZreviewtrader all the time. I get denied for many things though as there are just so many people on the site wanting to review things. I have a total of 20 reviews on Amazon right now. I have tested and written reviews for 6 things on AMZreviewtrader. My average word count is 115 and the rating is grade C.My tier is Review Ninja. I have two things that I bought for a low cost that are being sent to me. They will be gifts for my daughter for her birthday. Today I added a summary about myself to my profile. I think that might help as well give the sellers more to learn about me to see if I would be a good candidate to test out their products. My favorite things to test and review are beauty products!
8 responses

•
28 Apr 16
I'm so happy for you. Things are going well with your AMZreview. I wish there will be more products for you to review in the succeeding weeks and months. You're right, adding a summary about oneself can boost one's profile, not to mention you already have an experience in reviewing products. I'm confident that they'll pick you. You're doing a great job in product reviews. Keep it up!

• United States
29 Apr 16
I think I am doing well. I hope to get picked for better and better things. I will be very busy once my kids are out of school May 1st so I may cancel the free trial when its due and then pay for the year once they are back in school after the summer. I will likely do more blogging then reviewing in the summer as I love writing about my the fun things my kids and I do together.

• Sturgis, Michigan
28 Apr 16
In my opinion, as I reviewed for about a year and still do it, the year of Prime is so worth it. I love AMZRT. My only issue with them is the fact that the same companies are there and I know Amazon hates for people to review from the same company more than once. So I try to keep to actually blogging more now, rather than reviewing.


• United States
28 Apr 16
I would be thrilled to test the beauty products too. So much fun!

• United States
29 Apr 16
@shaggin
I would be in heaven if books were needing reviews. What fun that would be!

• Wausau, Wisconsin
28 Apr 16
I loved getting stuff from them too. I miss it a lot.

• Wausau, Wisconsin
1 May 16

• United States
1 May 16
@carebear29
Actually charging a monthly fee may be great for a lot of members. That would help people who can't afford the lump sum or only want to use it for a few months.


• Singapore
29 Apr 16
All these are very good items. I would like to receive them for free. I am really glad for you. Though your review is not top-rated yet, I am sure you are getting there. I think you just have to create a standard template, and then you just fill in the blanks before you write into a proper review.

• United States
1 May 16
No writing reviews isn't really like that. I just need to try the product out long enough to know everything about it and then write what I think of the product. I have more things coming soon over the next few days. Some I am waiting awhile for them to be shipped to me. It is hard to wait hehe.


• United States
29 Apr 16
I looked on the site for information. I believe as long as you have an amazon prime account you can so this site. Check out if you can get the free trial of prime where you live. If you are able to them check out AMZreviewtrader. I tested out the air vent cell holder today and love it! I can't wait for the other things I am going to test out and review to arrive.

• Toronto, Ontario
3 May 16
I love getting things to review. Glad you and your daughter got some time together.

• United States
4 May 16
Me too it is so much fun. I got 4 more things today. What I was the most excited about was an adult coloring book called Animal Puns. I got it for $2.99 for my daughter for her birthday. I cannot wait to look through it all with her and color with her.