No Veggies for me Just MEAT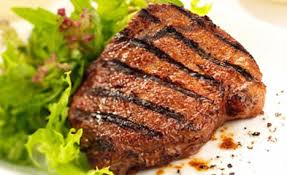 Nashville, Tennessee
April 28, 2016 5:38pm CST
How can a person become a vegetarian? I love meat, I love it fried, baked, broiled, steam, and all the many other preparations that you can do to it. There is nothing like a good grade of delicious meat. There are so many seasonings that you can use to make your meat have flavor. There are many ways to prepare it so it does not turn out dry and flavorless. I love meat from the cow, pig, chicken, and turkey. I am not into game meats but I am always willing to try new things. I even like the meat that most people don't like,"Chitterlings". I love chitterlings with hot sauce, yum yum. There is nothing like a good cooked steak or some fried chicken. I do not understand how a person can miss out on such goodness. They say that being a vegetarian is a healthy way of living. Well forget that, I will not be given up my meat anytime soon, so sounds like I have to find other things to do that will place me into the category of trying to live a healthy lifestyle.
10 responses

• United States
28 Apr 16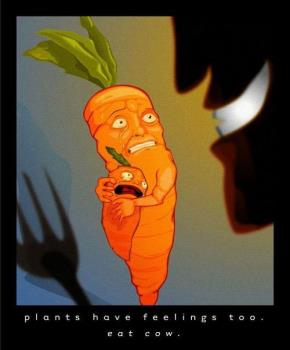 Most of the militant vegan/vegetarians I've spoken to have never eaten meat a day in their lives. They were raised on the vegan/vegetarian diet, probably brainwashed a bit, therefore it's much easier for them to deal with. Some people don't have any other choice due to food sensitivities and doctor ordered diets and such. Others abhor the taste and smell of meat just as much as those who hate vegetables.

• United Kingdom
28 Apr 16
I tried to be vegetarian once. Lasted about 3 days

• United Kingdom
28 Apr 16
@miyaford
No, although I've tried to cut back on so much

I eat meat pretty much every day!

• Nashville, Tennessee
28 Apr 16



• United States
28 Apr 16
Its all about what you are used to. I have been a vegetarian for almost 15 years and I do not miss meat at all. On the other hand I like certain foods that most peple hate (ie - tofu!). So its whatever floats your boat. I will say that being a vegetarian I barely ever get sick (maybe once per year) and never have ti worrt about high cholestrol. Those could be coincidences but I dont think so.

• United States
28 Apr 16
Some people can't have meat and so they have no choice but becoming vegetarians. Others have been able to take on the lifestyle and be happy so it wasn't hard for them. I can't be a vegetarian, not enough discipline in me.

• United States
28 Apr 16
I am a vegetarian and that works well for me. After not eating meat for so long, meat takes on a rather disgusting odor and appearance, but that's what happens when you go off something for so long. I am the only vegetarian in my family, and I do love all the carnivores in my life despite the fact that they gross me out when dining together, but they do not know that.

• United States
29 Apr 16
@miyaford
The abuse levied upon animals that are slaughtered for food is something I cannot be a party too. The USDA does very little to ensure that animals are slaughtered humanely. I mean, shoving a tube down a goose's throat, called gavage, and then force-feeding the goose to ensure its liver will be huge for the making of pate is one of the many heinous acts foisted upon animals used for human consumption. Humans can think of more cruel ways to add to the suffering of animals. My favorite quote: "Thousands of people who say they love animals sit down once or twice a day to enjoy the flesh of creatures who have been utterly deprived of everything that could make their lives worth living and who endured the awful suffering and the terror of the abattoirs." Jane Goodall.




• Canada
29 Apr 16
I used to really like meat, but it's been so long now, that I'm not sure that I could go back! I do get a craving for popcorn chicken every once in a while lol!