Sometimes Small IS Good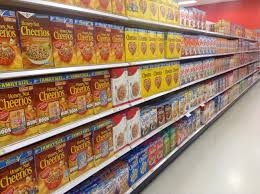 Saco, Maine
May 1, 2016 7:31am CST
Not to worry, this isn't going to be a risque post. It is, rather, about how much I love the smaller-sized packages of cereals sold in dollar stores and how well they fit the single person's lifestyle and needs. This applies to all the items I see sold in smaller amounts, such as single-serve packages of meat and mini tubs of cookies. Now if someone can just figure out how to package smaller loaves of bread, I'll be golden. Seriously, I live alone, and I don't keep a lot of food on hand at any one time. I keep a decent supply of the things I do eat and then add to that when I feel like trying something different. As for my freezer, I've written before about how small it is, and how it quickly develops ice on whatever I store there, so it's pretty empty most of the time. I never freeze leftovers for that reason, as their quality deteriorates quickly. So if I can't eat something in one or two sittings, it gets tossed to the wildlife. But back to the cereal. I don't eat it often, but when I do, I hate opening the package only to find that it's gone stale. Even the smallest-sized boxes at the grocery store are too big for me, and the stuff loses its freshness fast despite the fact that I seal the opened bag with a clip. So the other day, I bought a small box of cereal at Dollar Tree that is about half the size of even the smaller grocery store brands, and that is plenty for me. I eat cold cereal maybe once a week, if that, so even if this goes stale, there won't be as much wasted. I'm glad when food producers remember us single folks who don't consume as much as large families do. Still, there's a mania here in the U.S. to store away as much food as possible. Even here in senior housing, a couple of tenants have chest freezers that are separate from their refrigerators, though I have no idea as to why they'd think they need that much food. From what I've observed and read about, Europeans don't hoard food but shop more often for smaller amounts of fresh foods. That makes much more sense to me than keeping tons of stuff on hand that I'll never eat. And now that I live closer to stores, I am doing the very same thing. (Public Domain Image)
10 responses

• United States
1 May 16
You do pay more for those smaller packages - but when it comes to bread, why not freeze half a loaf? If we didn't have a separate freezer we'd have no place for our garden veggies and we'd have to drive 40 minutes to a store very time we needed meats.

• Saco, Maine
1 May 16
I don't like frozen bread at all. In this tiny freezer, it ends up tasting off. If I don't eat bread within a day or two, I toss it to the birds. I don't pay more for smaller boxes of cereal at the Dollar Tree, where everything costs the same price: one dollar. I wouldn't buy it if it were more expensive than larger sizes. I did used to store more foods when I lived 20 minutes from town. But I am just two minutes away from the nearest grocery store here, so I no longer need to do that.

• United States
1 May 16
@Raelove
I've never been in a 'dollar' store where things actually cost a dollar.

• United States
1 May 16
@Raelove
I know we don't have any of that name within a hour ride from here...just dollar general and family dollar.


• United Kingdom
1 May 16
That is why supermarkets are quite good as you can buy two carrots or six sprouts and no one will look at you as if you have two heads. Saves waste. Imagine going into a greengrocers and asking for that they would probably chase you out of the shop! You have to buy in half kilo's or a kilo which is silly!

• Saco, Maine
1 May 16
Here in the U.S., it depends where you shop and what you buy. Not all of them sell veggies in bulk, and many are prepackaged. So I tend to shop where I can do that.

• United Kingdom
1 May 16
@Raelove
We have prepackaged and loose. Loose is usually cheaper to buy!

• Saco, Maine
1 May 16
@garymarsh6
Yes, and you can buy what you need, so there is less waste in the long run.



• Saco, Maine
1 May 16
That comes in handy when you like to prepare meals in advance. I eat day by day now, as my family is grown and gone, and I rarely cook for anyone but myself.

• Saco, Maine
1 May 16
@LadyDuck
I only make such dishes for rare company now. On my own, I eat very simple fare, or I experiment once in awhile to break up the monotony.


• Momence, Illinois
1 May 16
Do you have grocery stores that also have a bakery because many of them make half loaves of bread. I worked in a grocery store bake shop for 13 years and we had half loaves.

• Saco, Maine
1 May 16
Yes, we do. But those half-loaves are usually almost as expensive as a full loaf. I do get the marked-down smaller breads at Marketbasket sometimes, though.

• Momence, Illinois
2 May 16
@Raelove
They are almost as expensive, I think if they want to sell them they need to lower the price. Why make them then charge so much no one buys them. Makes no sense,

• Saco, Maine
2 May 16



• Saco, Maine
1 May 16
I rarely buy those, as they're way too expensive. I do buy the individual cups sometimes, though.

• Singapore
1 May 16
@Raelove
Yes, they are comparative more expensive. I buy when there is a sale on it. It usually happens before the start of school term over here. I think the marketing tactic is for parents to buy for their kids, so that their kids can have healthy breakfast before going to school.

• Saco, Maine
1 May 16

• Chile
1 May 16
I have decided not to buy cereals for the same reasons. I do not eat cereals usually, but once in a while, I´d like to eat some. If I buy a big package, it gets a bit soggy with the natural humidity and I don´t like it anymore.

• Saco, Maine
1 May 16
Same here. We get some humid days in the summer, and cereals just get soft and tasteless.


• United States
1 May 16
As a wanna-be doomsday prepper, my contribution is that it's always good to be prepared for an emergency. Not, necessarily, food in your freezer. Because in a survival situation your freezer is probably going to fail you. But a month's supply of dry or canned foods and an alternate water supply in case of an earthquake, tsunami, or other "Act of God" is good to have on hand. That's why I hoard.

• Saco, Maine
1 May 16
Even now, I always have non-perishables in my cupboard that could come in handy in an emergency. I live one day at a time. And here in a senior housing environment, there are lots of protocols in place for dire events. I worried more when I lived alone in the woods, not so much now.

• Bunbury, Australia
1 May 16
Why would your freezer develop so much ice do you think? You should be able to freeze small amounts with too much ice.

• Saco, Maine
1 May 16
I think it's a bad seal on the door. I don't own the thing. Every time I open a container of food that I've frozen, it has a layer of ice on top of it. It's not a big deal, as I will survive very nicely with what I have on hand. If I had more people to feed, it might become a problem.


• Saco, Maine
1 May 16
Yes, my late partner and I had a small chest freezer. But I no longer need that, so I got rid of it, as it was just an energy hog and would have sat empty most of the time.

• United States
1 May 16
I have solved the bread issue. I buy a loaf of whole grain whole wheat bread from Oroweat. They are packed in two plastic bags. I open the first, and slice through the second with a thin sharp knife. I split the two halves, place each in an outside bag (keep one from a previous loaf), and close them up. I place one in the freezer (where it keeps without getting strange), and use the other half. On the day I finish the last slice of the fresh one, I remove the frozen half from the freezer, leaving it on the kitchen counter overnight. It is like fresh the next morning. Good luck.