Democracy; an acquired taste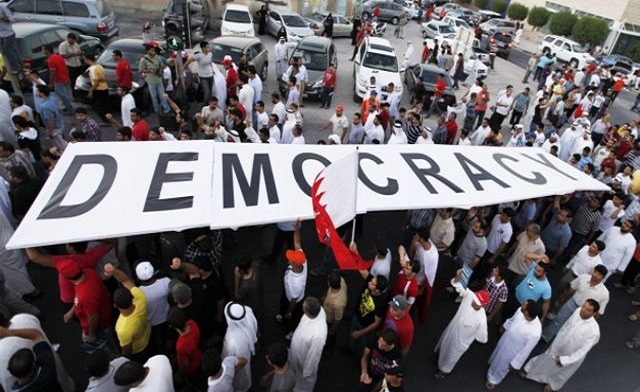 Kingston, Jamaica
May 2, 2016 7:51am CST
Those who live in the West love to talk about democracy as if it is the answer to all problems. Those who live in the West make the assumption that there is something natural or good about democracy. If you watch children you see the reality. Children are taught to share. Children are taught to see themselves in a group. The natural instinct is 'me'; and everything revolves around 'me'. When something has to be done; forget democracy. Armies have their commanding officers, and one either obeys or is shot. Businesses have their CEOs, and one either performs as ordered or is fired. In many parts of the world the idea of democracy, the attempt at democracy leads to chaos. Gaddafi ran Libya for many years. Libya functioned. The CIA/SAS having tossed out Gaddafi now have a big area of confusion where a country used to be. Saddam Hussein, as bad as he was, ran a country that functioned, now, theres nothing but a cauldron of all sorts of insane jihadis. Egypt was doing well, then came 'democracy' which, fortunately, the Egyptians got rid of within a year, and now are striving to reach the level they attend before the so-called 'Arab Spring'. What the West calls democracy is only functional in places which have a long history of it. In other places it leads to Kakistocracies, in which the worst people are voted into office because the best people are chased from power. Simply put, if you are honest, if you are competent, you can't be in the Government. You would interfer in the great Take, you would make the gals who achieved on their backs look even stupider than they are, you might blow the whistle on the son/cousin/uncle of a politician who has been placed in a money churning agency....in short...if you are honest and competent, you are a liability. To put it coarsely; the politician doesn't care about that district over there; whether or not they have water, schools, hospitals, when the money can be used to buy him some property in Miami where he can move to as soon as he's out of office? What happened in the Middle East was so unbelievably naive one wonders it those in charge of the creation of the 'Arab Spring' realise how much worse they have made things.
3 responses

• Chile
2 May 16
I don´t think that there is a real democracy anywhere in the world. The right to vote is a mockery. The ones who rule are the powerful and the rich. At least at the western democracies that I have seen.

• United States
2 May 16
No human government can possibly function perfectly, because humans were not made to govern themselves or others. Are you a Bible reader? Jeremiah 10:23 explains why humans are not capable of ruling themselves. It says: "I well know, O Jehovah, that to earthling man his way does not belong. It does not belong to man who is walking event to direct his step." The Living Bible says it this way: "O Lord, I know it is not within the power of man to map his life and plan his course." So, the truth of the matter is that GOD did not give man the ability to govern himself. No human, no matter how sincere he/she might be, is capable of leading a nation in a way that will benefit all the people. It's impossible. Man has tried every form of government and all have failed to protect the people and provide what they need to live in peace and security. So what is the answer? You might want to follow this link:

What is God's purpose? Learn when suffering will end and how paradise on earth will be restored in the future, as well as who will live in that paradise.

• Kingston, Jamaica
2 May 16
Humans have free will. They chose. Some are sheep, they go with the herd. Others are not, they use the free will (knowledge of good and evil to note Scripture). Every 'vote' is a conscience vote. As there are very few of these people and a lot of sheep....

• United States
2 May 16
@tallawah
Yes, God gave humans FREE WILL, so each person has to choose his/her course in life, BUT, we all still need direction from God, because we were created in such a way that we are unable to direct our steps, without God's guidance. When Satan told EVE that "God knows that in the very day of YOUR eating from it (the tree that God had forbidden them to ear from) YOUR eyes are bound to be opened and YOU are bound to be like God KNOWING good and bad." This was a LIE. This is why Satan is called the "Father of the Lie" He told the FIRST lie. Adam and Eve did NOT become like God, although they did start trying to decide for themselves what they thought was good or bad and look where that got them. No, we humans need constant direction from God and we get that direction from reading and studying the Bible. By the way, I've been to Jamaica twice and enjoyed the visit. When did you move there?

• Kingston, Jamaica
2 May 16
@IreneVincent
I live in Jamaica. I have been here almost all my life. I did travel a little to America and Barbados and once to Canada.


• United States
4 May 16
I do not think our vote really matters. I think it matters for the rich, but not your everyday class of people.

• Kingston, Jamaica
4 May 16
I have found that in very small organisations in which everyone has a vote and no one is afraid of anyone and there is no 'party line' the majority rules. Good/Bad/Indifferent... they decide. As an organisation gets organised, and has it's rules and positions and protocols...there goes democracy