Daily Bible Study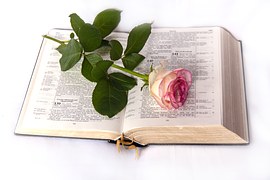 Green Bay, Wisconsin
May 2, 2016 11:33am CST
Day 44 Psalm 44 Psalm 44:1 < We have heard with our ears, O God, our fathers have told us, what work thou didst in their days, in the times of old. 2 How thou didst drive out the heathen with thy hand, and planted them; how thou didst afflict the people, and cast them out. 3 For they got not the land in possession by their own sword, neither did their own arm save them: but thy right hand, and thine arm, and the light of thy countenance, because thou had a favor unto them. 4 Thou art my King, O God: command deliverances for Jacob. 5 Through thee will we push down our enemies: through thy name will we tread them under that rise up against us. 6 For I will not trust in my bow, neither shall my sword save me. 7 But thou hast saved us from our enemies, and hast put them to shame that hated us. 8 In God we boast all the day long, and praise thy name forever. Selah. 9 But thou hast cast off, and put us to shame; and go not forth with our armies. 10 Thou make us to turn back from the enemy: and they which hate us spoil for themselves. 11 Thou hast given us like sheep appointed for meat; and hast scattered us among the heathen. 12 Thou sell thy people for naught, and dost not increase thy wealth by their price. 13 Thou make us a reproach to our neighbors, a scorn and a derision to them that are round about us. 14 Thou make us a byword among the heathen, a shaking of the head among the people. 15 My confusion is continually before me, and the shame of my face hath covered me, 16 For the voice of him that reproaches and blasphemes; by reason of the enemy and avenger. 17 All this is come upon us; yet have we not forgotten thee, neither have we dealt falsely in thy covenant. 18 Our heart is not turned back, neither have our steps declined from thy way; 19 Though thou hast sore broken us in the place of dragons, and covered us with the shadow of death. 20 If we have forgotten the name of our God, or stretched out our hands to a strange god; 21 Shall not God search this out? For he knows the secrets of the heart. 22 Yea, for thy sake are we killed all the day long; we are counted as sheep for the slaughter. 23 Awake, why sleep thou, O Lord? Arise, cast us not off forever. 24 Wherefore hide thou thy face, and forget our affliction and our oppression? 25 For our soul is bowed down to the dust: our belly cleaves unto the earth. 26 Arise for our help, and redeem us for thy mercies' sake. Have you felt like God forgot you? Has it felt like God was helping people who didn't know him or care about him, and left you standing in the middle of the road with a semi bearing down on you and you had nowhere to run? All your problems were packed in that semi and you had no idea how to deal with them because God wasn't around to help. Hind sight is always twenty-twenty. We can see everything we've done and know where we made the wrong turn. Israel had turned away from God and followed false gods, trusting in the nations around them and not God. God told them countless times through the prophets that he would send them into exile and leave them there at the mercy of their captors until they remembered him and called on him, then he would return them to their homeland, and they would see Jerusalem again and worship in the temple. The psalmist wanted to go home. He wanted to see Jerusalem, the temple, and his homeland. He wanted God to help his people and not side with their captors any longer. He was ready, but was the rest of God's people ready to trust God and not rely on the nations for help? Remember when Israel left Egypt, a group of them wanted to go back to slavery. They didn't trust God to get them to the Promised Land. Israel was in exile, slaves again to a foreign nation who trusted in false gods and did not share the God of their fathers. Was Israel ready to go home. Some were. The psalmist was. You can hear his hearts cry to return home and for God to help his people. Jeremiah 25:8 Therefore thus says the LORD of hosts; Because ye have not heard my words, 9 Behold, I will send and take all the families of the north, says the LORD, and Nebuchadrezzar the king of Babylon, my servant, and will bring them against this land, and against the inhabitants thereof, and against all these nations round about, and will utterly destroy them, and make them an astonishment, and an hissing, and perpetual desolations. 10 Moreover I will take from them the voice of mirth, and the voice of gladness, the voice of the bridegroom, and the voice of the bride, the sound of the millstones, and the light of the candle. 11 And this whole land shall be a desolation, and an astonishment; and these nations shall serve the king of Babylon seventy years. 12 And it shall come to pass, when seventy years are accomplished, that I will punish the king of Babylon, and that nation, says the LORD, for their iniquity, and the land of the Chaldeans, and will make it perpetual desolations. 13 And I will bring upon that land all my words which I have pronounced against it, even all that is written in this book, which Jeremiah hath prophesied against all the nations. 14 For many nations and great kings shall serve themselves of them also: and I will recompense them according to their deeds, and according to the works of their own hands. The psalmist asked God to do as he promised and bring recompense on Babylon for their captivity. He was ready to trust God in everything. He showed he wasn't alone in his prayer for God's help when he said 'our heart is not turned back'. Many Israelites were ready to trust God fully and allow him to be their God once more, but were all of them ready. We can look back on our life and see the many times we failed to trust God and the times we did trust him. We can see the wrong turns in our lives and we can see where we found the path again. It is in looking back that we can move forward. We know the problems, the pitfalls, the hurtles. We know what to watch for as we make the decision to put our hand firmly in God's hand to lead and guide us safely through our life and lead us home. Have you been in exile? Have you come to the place in your life when you are ready to trust God fully in every area of your life? Then put your hand in his and allow him to lead and guide you home. Let's pray: Father, many times in my life I strayed from your presence, trusting my life to me and my abilities. Help me put my hand in yours and let you lead and guide me through this life until you bring me home. In Jesus' name, I pray, amen. Copyright © 2 May 2016 by Valerie Jean Routhieaux Image courtesy of Pixabay
1 response

• Ireland
3 May 16
yes, I made a conscious choice and exiled myself before.. and that was a terrible period of my life. One thing that puzzled me whenever I read the history is, God has always been with Isreal and frequently demonstrated his presence. So what happened to led the Israelites to start worshiping other gods.

• Green Bay, Wisconsin
3 May 16
When the kingdom divided after Solomon, Jeroboam wanted to separate himself completely from Judah, and built golden calves - two of them one at the southern end of Israel and the other at the northern part - now I'm talking about the divided kingdom - Judah and Israel. He also barred the way to Jerusalem and forced the people to worship those golden calves. From there it was an easy path to worshiping the other false gods of the nations around them. Rehoboam did his best to keep the people following God, but even he had trouble and Judah went into a see-saw motion with each king that took the throne of David. Some followed God, some didn't. Some were half-hearted about it, some were fully committed. God gave both Israel and Judah every chance to repent but he could not go back on his word and sent them into Exile. Go to 2 Chronicles 7. You might need to start in 6. Read all of Solomon's prayer for the dedication of the temple, and God's reply, and you will see how God promised to take care of his people, and his promise that if they turned from him, he would send them into captivity.

• Ireland
4 May 16
@just4him
Thats the thing even when God walked with Isreal people were tempted to stray, no doubt we have a much harder battle today to stay on track

• Green Bay, Wisconsin
4 May 16
@Drosophila
Satan likes us to think so, but the temptations haven't changed since the Garden of Eden.