Four Cats in the Alley!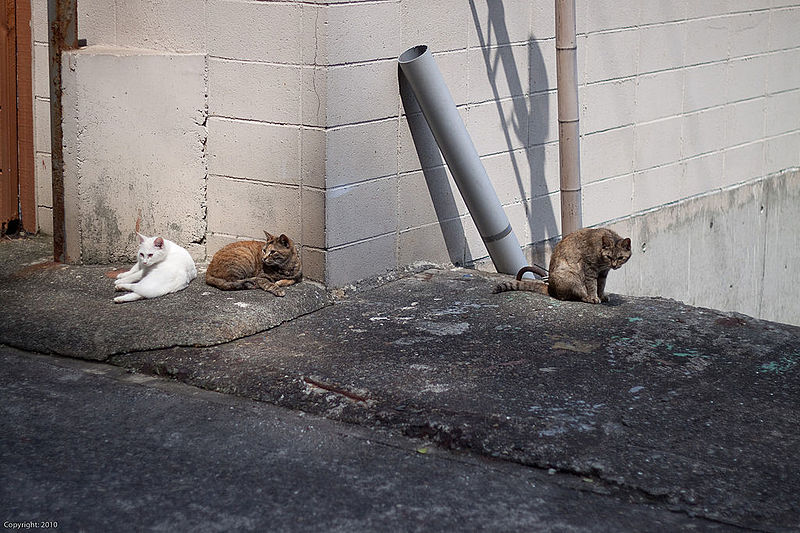 Ciudad De Mexico, Mexico
May 2, 2016 12:01pm CST
I live in a street where there is an alley, just a few steps from my door. Every day, I have to pass in front of the alley and every time I do, there are always four cats there hanging around in the surroundings. For the four cats, there is always food, as the neighbors place them a ration of food on their bowls every day, so the cats may be always sure there is going to be food for them all the time. In the evenings, when I walk through the place to get to my door, I always see the cats there sat in the middle of the street, watching people come and go. One can walk just inches from them; however, the little friends may remain there without fear just taking a peek at people´s feet When someone stops and stares at them for a moment, the cats or cat, would turn their stare at the person without any fear. It´s as if they already knew the person and recognize him/her as an old friend. I think the cats are used to see friendly people and they just react accordingly. I once talked to someone and commented about taking the cats to the veterinary for sterilization; however, that subject was out of the question, because nobody has the time or money to take care of this issue. What would you have done?
4 responses

• United States
2 May 16
I have a lot of stray cat when I was in Mexico.Lot of the places had them running all over the place.Same as dogs

• Ciudad De Mexico, Mexico
2 May 16
Yes, there are lots! In some neighborhood, there can be more cats and dogs without an owner than in others, Close to where I live, I have counted an approximate account of 10 cats. This is in a radius of 1/4 of a KM around. I don´t know how cats who breed do in order to bring up their offspring. One thing I learned from someone who knows about animals is that once animals know that their offspring is not going to survive, they kill the animal. It sounded logic to me. Sometimes, animals can be more wise than us humans, so as to avoid animal suffering.


• Ciudad De Mexico, Mexico
2 May 16
It´s a good practice that benefits the cats. I always try cooperate with my due for the cats.

• United States
2 May 16
I think it is very nice that the neighbors put out food for the stray cats. I have a neighbor who does that as well. I don't mind stray cats as long as they do not spray all over my house. They tend to do it to the door of my house for some reason and it smells terrible.

• Ciudad De Mexico, Mexico
2 May 16
The cats are there because in the neighborhood there are many cats. I think they are used to see cats; three, four or five together, playing and staring.

• United States
2 May 16
When I lived in Guam there were a lot of cats that just hung around. We used to call them boonie cats. Underwear always kittens running around. The Guamanian people many of them are Catholic. And they would never think about spaying or neutering their animals because it was not natural. Of course not everybody feels that way but there seems to have been a predominant attitude of this which caused issues. Perhaps Mexico has some of the same cultural ideas about spaying and neutering because of the Catholic Church? I used to capture as many as I could because I would feed them and I have spayed or neutered many an animal that was not mine.

• Ciudad De Mexico, Mexico
2 May 16
Maybe there is a resemblance here about cats; however, I have not investigated. The only thing I know is that no matter one might want to do about cat popullation, there is always going to be a community of cats, which as contrary as I could think, seem to be living a happy animal life. Maybe I´m too worried about them!