Sunday Trip to a Silent Movie: "The Mark of Zorro"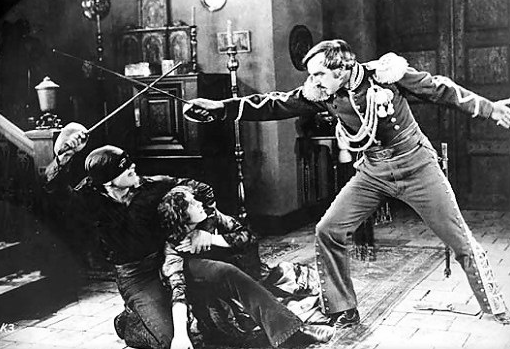 United States
May 2, 2016 4:40pm CST
Yesterday, the dearly beloved and I saw a showing of the 1920 silent version of The Mark of Zorro starring Douglas Fairbanks, Sr. Live music was provided by an organist named Dennis James who appeared on stage in a straw hat and spats. In his opening remarks, he said that he first saw The Mark of Zorro in 1969 with his father. At the time, he was 18 and studying to be a church organist. On seeing the movie with an organist performing, he said he told his father, "I can do that." In the movie's familiar plot, based on a 1919 story The Curse of Capistrano by Johnston McCulley, the lazy Don Diego Vegas, has recently returned from Spain. However, when no one is looking, Don Diego dons a mask and assumes the identity of "Zorro," ("Fox") riding about avenging wrongs inflicted by the corrupt government on the downtrodden in the days of Mexican rule. He often uses his sword to mark the faces of the transgressors with a "Z." Silent movies have limitations, of course, but this was a lot of fun. The viewer has to pay attention. The viewer has to read the intertitles. The acting, the expressions, the action—all are over the top. But this movie is also quite funny. It shouldn't be too surprising that the performing arts center wasn't exactly sold out, but this was enjoyable.
6 responses

• United States
12 May 16
That sounds like a lot of fun, I have not seen a complete silent movie, I don't know if I could pay that much attention. I think originally they had people playing music during the shows.

• United States
12 May 16
@msiduri
Well that would have vastly improved the whole experience.


• Denver, Colorado
2 May 16
That would be fun. I've never been to anything like that before.

• United States
2 May 16
Yes,they are fun.Did you have a piano player going along with the movie?

• Los Angeles, California
2 May 16
I have seen the film. Fairbanks essentially controlled all aspects of his films and his foremost priority was audience enjoyment and fun that's why there's humor with the spectacular even by today's standards stunts.

• Toronto, Ontario
2 May 16
Glad you enjoyed it!. I would love to go to something like this.