Eye know something is up!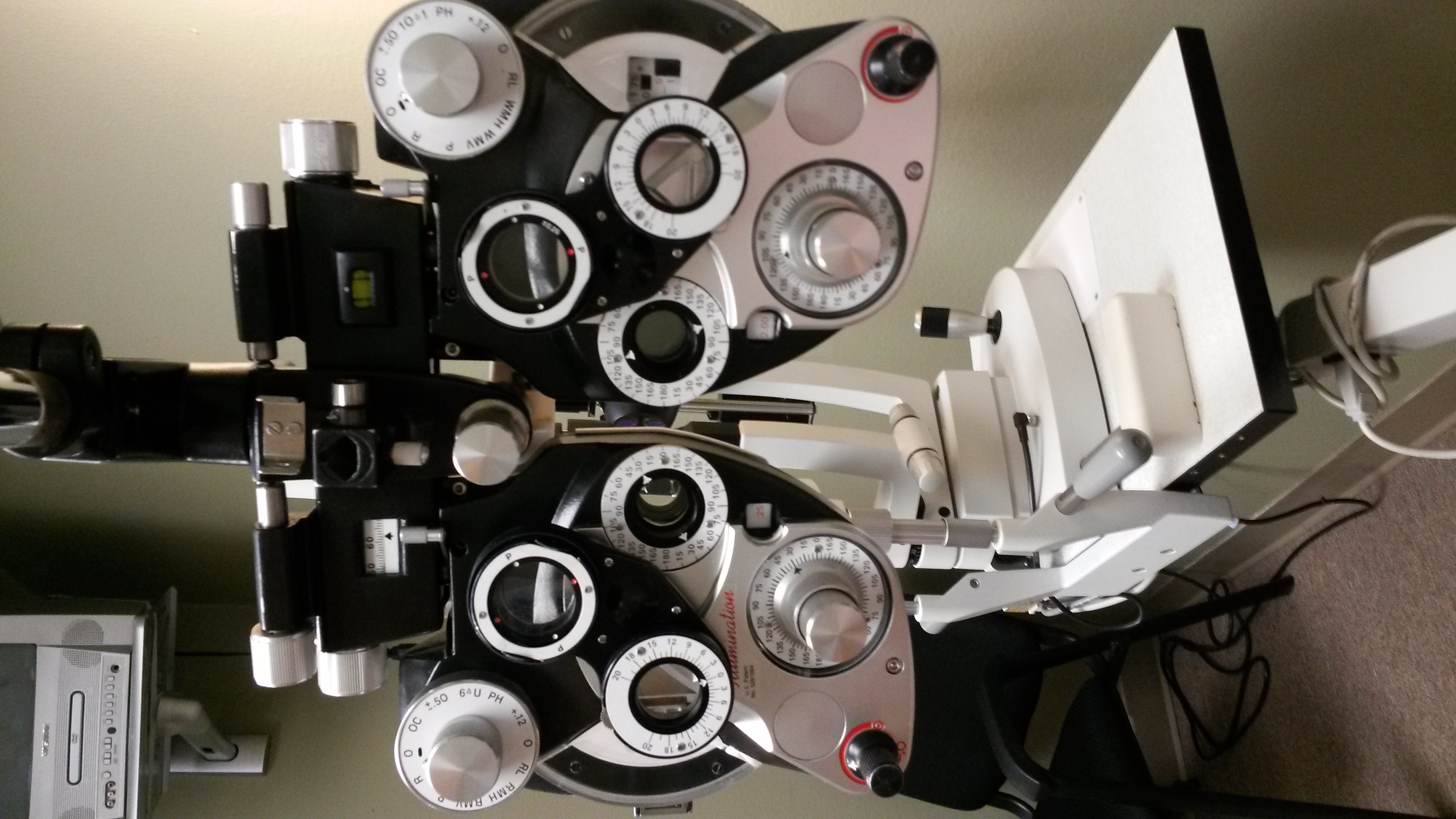 United States
May 2, 2016 10:17pm CST
I took this picture while waiting (and waiting)for my eye surgeon to pull up my personal chart on the computer. I filled you guys in on last week's visit where the other eye doctor acknowledged my right eye, which had another surgery 2 months ago, was terrible. Finally, after 2 months they made an appointment for me to speak with the eye doctor who actually did the surgery. He put a "band aid" contact on my eye, and prescribed a different eye drop. He thinks my right eye might be "overreacting" to the surgery 2 months ago. I go back in a month, and if it's not better he'll figure something out. Which doesn't make me feel great, but until told otherwise I'm just going to think it will heal, and I need to be patient.

And next month l will be meeting with him again; no handing me off to a different doctor. So when is the last time you were at the eye doctor? *Yeah, the picture went wonky and posted sideways. Sorry.
10 responses

• United States
3 May 16
I'm so sorry for what you're going through. I hope things get better soon! I saw my eye doctor in January and things are good. He's been keeping a closer "eye" on me since I got the diabetes diagnosis. But so far everything is still good. I hope to hear good news about your eye soon! :)

• United States
3 May 16
@AmbiePam
Most definitely! My father had type 1 diabetes and he lost his eyesight while he was still pretty young. When my eye doctor found out that I had type 2, he immediately made notes and told me he would do everything he can to help me keep my eyesight. But so far he doesn't even see any sign of the diabetes in my eyes. And that makes me want to keep things going in the right direction. I hope your father listens to you before it's too late. xoxo


• Banks, Oregon
3 May 16
Hope things get better soon and, I have never been to one.

• Banks, Oregon
3 May 16


• Canada
4 May 16
@AmbiePam
I had a brain tumor on the back of my optic nerve so there is scarring on that nerve which affects my peripherial vision. So its a must for me. And I was "blind" for 3 days following the removal of my brain tumor due to swelling, so I have never taken my eyesight for granted.


• United States
11 May 16
I spent most of Monday morning and afternoon at the Duke University Eye Center's Division of Low Vision Services.I have low vision, but I also have plenty of usable sight, so I will have to make further adaptations at home and work, and I have to get trifocals now (and I just got a new bifocal prescription four months ago). I was also told that no restrictions will be placed on my license, so I can continue to drive any time of the day or night.

• United States
3 May 16
I hate to admit it but I haven't had a good eye exam in years


• Roseburg, Oregon
3 May 16
I have my eyes checked once a year.

• Green Bay, Wisconsin
3 May 16
March was my last appointment and I ordered my glasses online because Wal-Mart is the only place that takes my Medicaid and they messed up my eyes last year. I wasn't going to let them do it again this year. I ended up getting three pairs, one bifocal and I love them. Not including the eye exam the three pairs of glasses cost me $74.80, a real deal. The eye exam was only $59. I couldn't have done better if I wanted to. I hope everything heals the way it should. I have heard of eye doctors putting patches on eyes to get lazy eyes to work the way they should, so hopefully this will do the same thing.

• Bunbury, Australia
3 May 16
I hope something good comes of all this soon. It must be a bit worrying.

• Garden Grove, California
10 May 16
way too long they sent me to a retinologist who too k a zillion pictu res of my eyes I iknew i had a cataract in my left eye and wanted him to take it out but he said he d notl ik e ht color on thephotos of my good eye wanted me to come back in Sept but had huge finacial proble ms from social security for two years took a hearing with a federal judge to overrule the social security a nd now finally Igot my money back so I should go to an eye doctpr butnot that one as he just kep puttng me off. My right eye needs new glasses b u the visionhas not changed a lot.