Playing Hide and Seek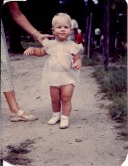 Daytona Beach, Florida
May 3, 2016 1:27pm CST
If there was one thing which I loved more than anything else it was playing hide and seek. However being an only child I didn't get to play it too often. My mom discovered that a rousing game of hide and seek just before my 9 PM bedtime was a great way to get me tired enough to go to bed. So at around 8:30 each evening mom and i would play hide and seek. Being small I could get into the most amazing places. Mom usually didn't hide she just looked for me. It was a short game but fun all the same. Not far from out apartment building in Bay Ridge, Brooklyn, New York was a church with a high bell tower which rang every hour. So you could be sure that mom knew when it was nine because the church bells told her so. Well one evening I discovered a super place to hide. In the bathroom on top of a corner of the bathtub with the shower curtain wrapped around me. There I waited. Sure enough mom came and went and I still wasn't found. Suddenly those bells began to chime and I wondered if I shouldn't let mom know where I was when I heard her talking to dad. She was very upset and crying saying that perhaps I had fallen out the window because she couldn't find me anywhere. Dad of course told her that was nonsense that I just had found a very good hiding place. Well when I heard all of this I knew that if I didn't say something now I would be in hot water. So I finally called out to mom and told her where I was. She was so glad to see me that I got away with it this time. Afterwards I picked places where she was sure to find me eventually because I didn't want to have her stop the hide and seek games. Picture of little me standing with mom's help
4 responses

• Philippines
3 May 16
That's really cute. Awesome bomding time for you and your Mom.

• United States
3 May 16
I love this cute little photo Sandra of you. How lovely a childhood you had..so much love around.

• Bunbury, Australia
4 May 16
A friend and I managed to get my mother to play hide and seek with us once. She went around talking to herself and made us giggle with her talk about making a poor old woman play games and where could they be, etc. Once we giggled she found us easily.

• United States
3 May 16
What a wonderful memory you shared with us! Your poor mother. Glad you changed your ways so as not to scare poor mom in the future! Love the photo!

• Daytona Beach, Florida
9 May 16
You know when I see that photo now I am amazed at how little and short I was
@Corbin5
lol Anyway when I was growing up we always lived in apartments and on the fifth floor. I was always well taken care of and never was in any danger to fall out of any window. I find it amazing how the years have suddenly changed things and now children are falling out of windows or even need bars on windows to keep them inside.