Elvis Facts

Daytona Beach, Florida
May 3, 2016 1:30pm CST
I wonder why Elvis chose not to write a single of his songs. I really believe that with his talent he could have written quite a few songs. The next fact puzzles me and that is Elvis never performed outside of North America. Perhaps he had had enough of Europe during the war. Still I could imagine him performing on tropical islands but perhaps Hawaii was tropical enough for him. I'm sure that Elvis not only failed music class at high school but probably some other classes as well. In high school he was probably too busy chasing girls to even think about music. You have to give a guy a chance to grow up. Now I'm not sure if I believe this or not but supposedly it's a fact that Elvis was born blonde and dyed his hair black. What do you think? This one I know is a true fact. When Elvis was just 22 years old he bought Graceland for $102,500 and moved in with family and friends. Lucky he did buy the mansion at this time. Probably by the time he became 32 the house would have doubled in price so he got a bargain. Elvis won three Grammy's and all three were won for his Gospel songs. If you have heard Elvis sing gospel then you know he does it with heart and soul. One of my all time favorites is "How Great Thou Art" and I have included it here. Even if you are not a fan of gospel music you cannot deny that this is Elvis at his best. For $55,000 Elvis purchased former U.S. President Franklin Roosevelt's presidential yacht "The Potomac". I'm not entirely sure about this one either but supposedly Oprah Winfrey and Elvis are distant cousins. However now and then I think there are people who run into relatives they never expected to be relatives. http://www.factslides.com/s-Elvis-Presley

Lyrics! Oh Lord my God when I in awesome wonder Consider all the *worlds thy hands have made I see the stars, I hear the **rolling thunder Thy power througho...
8 responses


• Canada
3 May 16
He certainly was a one of a kind although I hear he had a twin. I doubt he was a blond but changing hair color is easy. Interesting post, lots I never knew.


• Daytona Beach, Florida
9 May 16
Put the song into search and you'll have the answer
@MGjhaud

• Bunbury, Australia
4 May 16
Nowadays it seems singers and bands are expected to write their own songs but that wasn't so much the fashion back in Elvis' days. I think there were many singers who had songs written for them.

• Daytona Beach, Florida
9 May 16
Made good money for the songwriters I must say
@JudyEv

• Bunbury, Australia
14 May 16
@RasmaSandra
I suppose it did but I never knew any of the songwriters' names back then, just the singers.


• Daytona Beach, Florida
9 May 16
Imagine getting a house and property like Graceland for those prices
@mom210
of course that is all a thing of the past.

• United States
3 May 16
I am in awe of Elvis to this day..he truly accomplished so much in life although many would say bad about him. I still love him.

• Santo Domingo, Dominican Republic
3 May 16
Nice list you put together, I never knew none of this info about The king Of Rock! I wonder who wrote his music?

• Daytona Beach, Florida
9 May 16
I believe he picked and chose the songs he wanted to sing and of course it meant great prestige to the songwriters
@BACONSTRIPSXXX

• Santo Domingo, Dominican Republic
10 May 16
@RasmaSandra
Yeah that must of been honorable for song writters of that era, I wonder if they got any recognition for their lyrics?

• Daytona Beach, Florida
11 May 16
@BACONSTRIPSXXX
who knows but I certainly would hope so. I know Elvis is still making money from his songs which goes to the estate but what about the songwriters. Perhaps a topic to explore.


• United States
2 Jul 16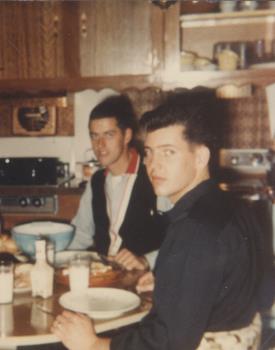 I enjoyed all this information about Elvis. He had a wonderful voice and I knew that the Grammys he won were for his gospel albums. I had heard that he was born blond and dyed his hair. His father's hair was not black but his mother's hair was. If he dyed it, no one could ever tell. My husband had black hair just like Elvis and resembled him when he was young. Did you ever see this picture of my husband? He was 19 when this picture was taken. I've put it up on myLot before, but you might not have seen it. What do you think?