Gary Fisher Sugar 4 - I Loved that Bike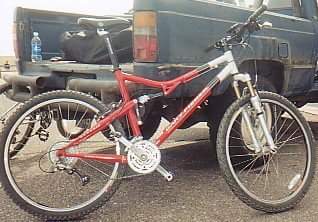 Denver, Colorado
May 3, 2016 8:40pm CST
This was supposed to be the last bike I would've ever owned. It was a Gary Fisher Sugar 4 that I bought on clearance for $900. And, since my previous bike had been stolen, I kept it secure with the near-infallible Kryptonite New York bike lock (more on this in a moment.) I rode this bike everywhere, putting 2500 miles on it one year just by doing so. Mountain biking, road and bike path training rides, errands, you name it. It had a Marzocchi Bomber fork and a Cane Creek rear shock and it was, to that point, the most comfortable bike I'd ever owned. Using my trusty New York lock, I locked it up in front of the Downtown library in Colorado Springs while I did some research. When I emerged a few hours later, thanks to my invincible Kryptonite lock, my bike was still there. At least, the frame and front wheel were still there. They stripped everything else while I was in the library. Lesson learned. Even a theft-proof lock is not invincible. You still should lock your bike in a well-lit area, preferably near lots of other bikes that are easier to steal. And keep your eye on it. These guys (I'm guessing it was more than one person) had to work fast, yet obviously had enough time to get everything not protected by the lock. I was devastated to the point that I didn't replace it with another expensive bike for a couple years. I bought and rode pawn shop bikes instead. Losing this one stung. I loved that bike.
5 responses

• Bunbury, Australia
4 May 16
What a great shame. We saw a bike front wheel locked to a pole in a street in Dublin once - the rest was missing.

• Denver, Colorado
4 May 16
I wonder if the cyclist looked his wheel up away from the bike somewhere. I've seen a few people do that to prevent theft. I take my seat with me to deter theft of both the bike and the seat.

• Bunbury, Australia
4 May 16
@teamfreak16
That's pretty smart. Taking the seat. It would put off a few would-be thieves I bet.

• Denver, Colorado
4 May 16
@JudyEv
- That's what I'm hoping. My guy or guy's had to be professional. They couldn't have had much time, they would need specific tools, and a firsthand knowledge of bikes.


• United States
10 May 16
Oh no! I cannot believe people do that! What are they going to do with bits and pieces of a bike? That's so devastating? What's worse.. stealing the whole bike or bits and pieces! I hope you weren't too far from home.

• Denver, Colorado
10 May 16
Either they used them to build a bike, or they sold the metal as scrap. At least those are the possibilities that come to mind.

• United States
10 May 16
@teamfreak16
Would one make a lot for selling metal as scrap? I never looked into that ever, but it's such a bummer people do that.

I would be so angry especially since you locked your bike!!

• Eugene, Oregon
4 May 16
What a shame it was to lose that one! Portland and my town of Eugene are big targets for bike thieves too. Many people have no respect for laws and private property.

• Denver, Colorado
4 May 16
Eugene is a college town? Lot's of bikes to steal. I could see that.

• Eugene, Oregon
4 May 16
@teamfreak16
Both Portland and Eugene have big college populations.

• Philippines
4 May 16
Oh my gosh! I can't imagine my bike being stolen like that. That's why I don't leave my bike anywhere especially in this country. My wheel set alone costs more than $2,000. Can't imagine them stealing that. My mountain bike fork is $1,000. I would be extremely depressed.


• Denver, Colorado
4 May 16
Geez, your wheelset is almost as much as my entire bike.

• Philippines
4 May 16
@teamfreak16
easton ec90 is the wheel set i'm using for my road bike. It's carbon and quite expensive here because of the import tax maybe.

• United States
4 May 16
That sucks so much. I have a deep seated hatred for thieves like that.

• Denver, Colorado
4 May 16

• United States
4 May 16
@teamfreak16
Oh I do. While I have not known a theft like that, I have had seen friends ripped off by some scum who felt that they were owed... Can't stand that!