Trevi Fountain, Rome, Italy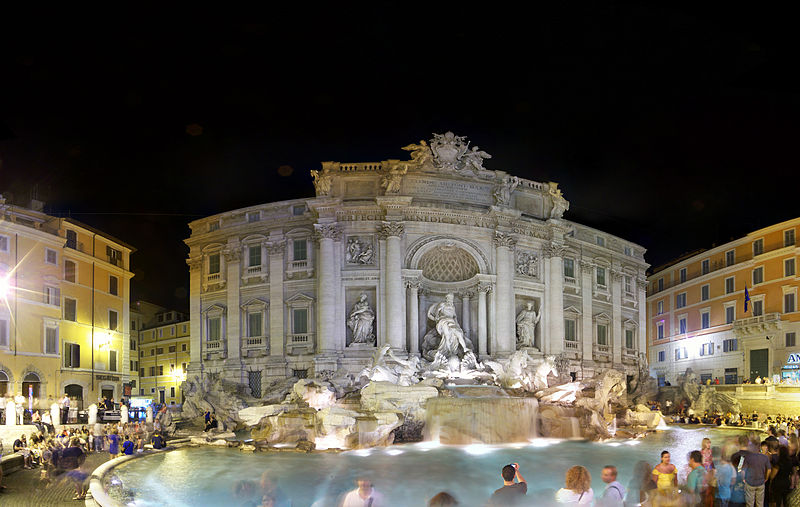 India
May 4, 2016 9:08am CST
I only knew of the existence of this fountain when I got to know the song 'Three Coins in the Fountain' sung by Connie Francis, years ago. When a package holiday to Europe was planned a visit to the TreviFountain was included in the itinerary. The Fountain was the creation of Nicola Salvi, way back in the year 1762 having the dimension Dimensions 26.3 m × 49.15 m (86 ft × 161.3 ft) A beautiful piece of art is what I saw when I arrived there and as per norm I too threw 3 coins and made my 3 wishes. I do not remember what those wishes were but it was a great experience being there. Some of you would have been there too. Do you remember what your wishes were or would you want to go there if you have not gone there yet?
6 responses


• India
4 May 16
Yes. You are right. It was a typo. It was fun to do it. And I saw how there were men engaged to dive and pick up those coins.

• United Kingdom
5 May 16
@allknowing
A few years ago a man was convicted of stealing after he had made a lot of money picking the coins out of the fountain every night. Personally I don't really see how gathering coins that people have thrown away can be considered stealing.

• India
5 May 16
@Fleura
I ithink that money would belong to those who maintain the fountain.


• India
4 May 16
It is disgusting that I could have made so many typos in my post. I have made the corrections. Thanks for showing them to me. I knew it was called Trevi and was in fact enamoured when I saw the date when I was searching for info.

• United States
4 May 16
What a marvelous sight to see! Have never been to see it up close and personal, but what a thrill it must be to toss a coin or two into that beauty.

• India
4 May 16
I got that feeling when I tossed those coins




• United States
4 May 16

• Aurora, Missouri
5 May 16
Hmmm... It is beautiful, Always smiling, but not one of the places I have dreamed of going to when/if I ever had the chance.

Very nice post!