My neighbor ordered my daughters cake today.

United States
May 4, 2016 10:23pm CST
My neighbor went on kay's facebook page. Took four pictures and made a collage. They are putting it on her cake. I will go pick it up the day of her birthday. She got her gift card early in the mail and spent some. I ordered her a purse and furniture cover. She will get those this Sat. She will open them on her birthday though. She did not know it was a gift card. Do you order cakes or bake them. This cake will be $24 and large with strawberry filling.
8 responses

• Philippines
5 May 16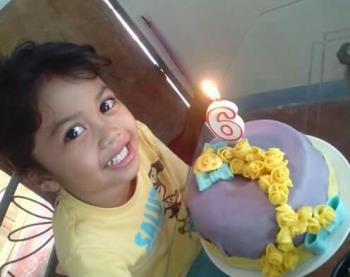 That was so sweet of you... I usually order cake..but only once I make one for her..it was during her 6th birthday. It was this one shown in the picture.

• United States
5 May 16
That is a nice cake. Goodness she is blessed and beautiful.

• Philippines
5 May 16
@sharon6345
thank you very much.. But lately since she got fond of Frozen movie she wanted a frozen cake. But I don't know how. So we just ordered

• Chile
5 May 16
I used to make my own cakes. But now the nearby supermarked has very good cakes at reasonable prices. So I just go and get them.

• Boise, Idaho
5 May 16
We usually make them. I have wanted to try one of the Baskin-Robbins one but never have. This idea with the collage sounds very nice.


• United States
5 May 16
That is so nice! I don't remember the last time I had cake on my birthday. Actually, I don't even remember the last I even did anything even somewhat special on my birthday (eat somewhere nice, go shopping, etc).

• United States
5 May 16
Sounds like a delicious cake! I buy my cakes.


• Roseburg, Oregon
5 May 16
Strawberry filling sounds really good to me. I hope she has a nice birthday.