You get what you pay for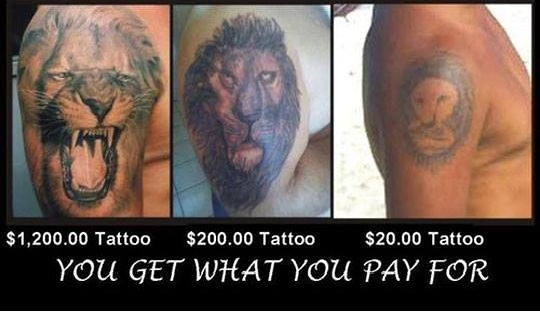 Malaysia
May 5, 2016 3:44pm CST
I searching in internet and found this picture. Will you do tattoo like in the picture for only $20 even it look not nice and funny? I see $200 tattoo also not nice. $1200 tattoo look cool but even it is cool i don't want to make any tattoo and my relegion also banned us to make tattoo. I like my skin clean without any drawing. Better buy something important with $1200 and not waste money to make tattoo. At here only gangster and bad people like to make tattoo.
2 responses

• Sturgis, Michigan
5 May 16
The $20 tattoo made me laugh and made me feel some sympathy for people. I just wonder I know there's a lot of free hand tattoo artists out there but a lot of them aren't if they're going with a free hand artist, I think it'd be a good idea to see how the artist's drawing really is first, no matter the price.

• Malaysia
6 May 16
Yep $20 is so funny. It is not like lion, it is like monkey.


• Sturgis, Michigan
6 May 16
@AkamaruKei
even a monkey looks like it's drawn better than that.