Fears...shake, rattle and roll..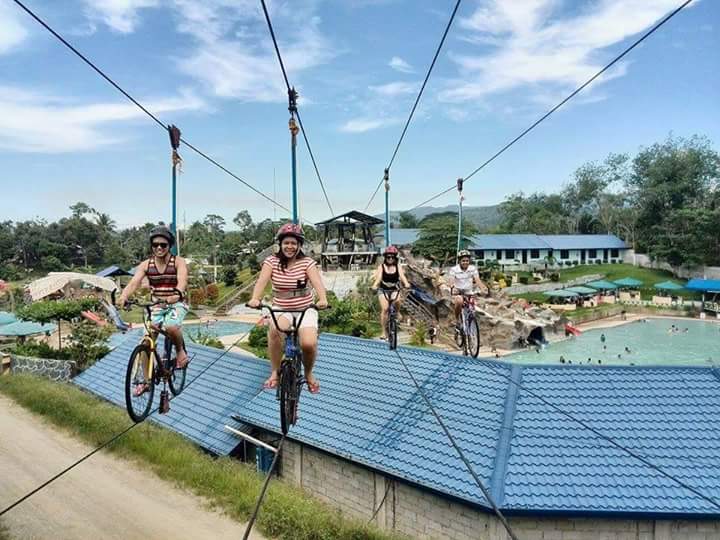 Philippines
May 8, 2016 6:42am CST

actually I did not mean the ghost or anything.. I have fear on heights since I was very young until I have grown seems that I never did overcome this fear. It was just last summer of 2015 that for the sake of being in the group I have to face this challenge. It was a dare by me and my siblings that if anyone who cannot make a two passes of back and fort of the hanging earo cycling will have to pay the whole expenses for the said vacation getaway.. Since I really wanted to spend all of that money for we we're about four family together in that summer vacation so I took the challenge.

When I was already on top of the tower I felt diay and was about to vomit or anything..I feel my hands are shaking but my for wasn't making anymore step. But my husband hold my hand and told me if I could not make it it was totally fine with him. But I guess as what everyone say, you could never know what might be in the other side if the bridge if you will not cross. So to make it short I did it..I thought I could not but I did it..and I feel that I wanted to do it more.. then they surprise me with a cupcake of a candle on it saying tjier congratulations and everything and my dad said that as a reward he would treat everyone on a very nice seafood restaurant. I realized that I was just making the ghost inside me. And nothing to be scared for. I conquered my fears... How about you? How did you overcome your greatest fear?
7 responses

• Philippines
8 May 16
I have fear of ghosts and i have not overcome it until now.


• Philippines
8 May 16
I wonder how to overcome that one..

Maybe you have to meet one..


• Philippines
8 May 16
@jndlponti
Nah, i don't think it's necessary to overcome that fear. It would only intensify it


• Philippines
8 May 16
@toniganzon
hahahaha...it will just freak you out all the more..



• India
8 May 16
That picture looks supercool... Well my fear is public speaking and for that I joined theatre society of my college...and it helped me in learning and also in overcoming fear....

• Philippines
8 May 16
Wow..that is good. I guess living out with your fear actually isn't bad at all.

• India
8 May 16
@jndlponti
yeah...the biggest resistance in our successful is fear and one must get over it....

• Philippines
8 May 16
@imravi
I believe in that now.. I thought before that just keeping my fear in me ,in the deepest darkest side of my I can just get by.


• Philippines
8 May 16
congrats! so where is that? which one is you and your hubby? i guess it's okay even if you don't know how to ride a bike like me? hahaha!

• Philippines
8 May 16
I am that fat lady in red stripes..my husband is the one on my right..the other two was the one wearing white shirt is my brother and the lady beside him is his wife. That is in Agusan del Sur. It was fun their..even the kids loves their pool and the slides and they have a very good accommodation.

• Philippines
8 May 16
Yes it is fine even if you do not know how to ride a bike..my sister in law doesn't know how to ride a bike as well.

• Cuyahoga Falls, Ohio
8 May 16
That looks so daunting and challenging. I'm afraid of heights too. But I do go on some roller coasters.

• Philippines
8 May 16
Yah..in roller coaster is that you feel a bit secure since you are sitted on a tight chair..but their in that oh no, I was thinking of where will I cling on my hand of the bike tends to bend on the other side if I cannot hold my balance.hahaha

• Philippines
8 May 16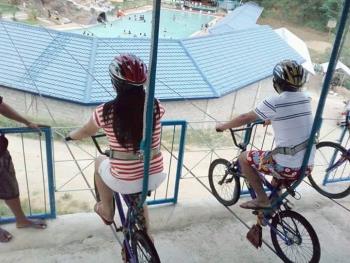 That was the starting area going to the other end...you are to pass over the pool area.

• Philippines
8 May 16
@jndlponti
do they have a camera at the start and end of the line then you pay for the pictures?


•
8 May 16
My greatest fear is from water..i have a great fear of water but to overcome the fear i learnt swimming..

• Philippines
8 May 16
Good for you..then now you are no longer scared of water? Or to be exact deep waters..


• Philippines
8 May 16
Hahaha...that's what is on my mind already right when I reach the top if the tower,the time when I feel like I could not almost make it to the top of the tower all the more biking on a very thin hanging wire.