Food Adventure: Bean Soup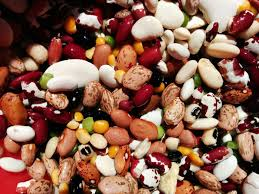 Saco, Maine
May 9, 2016 8:45am CST
For years, I've seen these bags of beans on the store shelves and wondered if it would be worth trying them. So last week, I decided that it's now or never, as the weather is still cool enough right now for hot meals. The beans, called HamBeens, are put out by Hurst, and the package includes a seasoning packet. They can be done the traditional way in a big pot or in a slow-cooker, so I went to the website to read the directions. As the photo on the website shows, the "beans" are actually an assortment of beans, lentils and dried peas. They are very colorful once rinsed and in the pot, and of course are very nutritious, too. The recipe on the bag and on the website calls for onions, garlic, chili powder (which is optional, but I added it), and 8 cups of water, which pretty much filled my cooker. It also suggests using a ham bone, a ham hock, or smoked sausage. Lacking those, I used some ham I had left over from Easter. All that's left to add after about 5 hours of cooking on high is a can of diced tomatoes and some lemon juice. Hot sauce or red pepper flakes can also be added at the end, but are also optional. I made bean soup once many many years ago, but I used bacon. And it didn't turn out that well. I'm hoping this does, as it'll be a perfect supper on a windy cool day. (Public Domain Image)

One of the questions we receive the most is
10 responses

• United States
9 May
Rachel what is funny and I have a brand new slow cooker.But have not used this yet.Got this last year.All it does it stare at me. Not sure if I will ever use it.


• Chile
9 May
Buy a pressure cooker so that the slow cooker has company


• United States
9 May
@marguicha




No thanks.You can have it if you were around here

• Saco, Maine
9 May
I don't use mine often. One of the reasons is that it doesn't hold a lot. The ingredients for this soup filled it, so I 'm watching it to make sure it doesn't boil over.



• Saco, Maine
9 May
Starting to smell good already.

• Saco, Maine
9 May
@Ronrybs
Our weather is warming ever so slowly here. Still very cool, so a good day for soup.


• United States
9 May
wow that sounds SO good! I've never seen anything like that but I'd sure love to try it! :)

• Saco, Maine
9 May
When you go shopping, check out the dry bean shelf. You should find this package there. It's called Hurst's HamBeens 15-Bean Soup. Mine are done, and I'm letting the soup cool a bit before I dig in.

• United States
10 May
@Raelove
I will definitely look for it! Thanks so much! I hope it's good! :)

• Saco, Maine
10 May
@CRK109
You're welcome. And yes, it was very good. Very thick and rich. One suggestion that came with the recipe stated that you can also eat it on top of white rice or noodles. I think I will try that, too.


• United States
9 May
My father was the king of bean soup - it was very basic recipe that was out of this world. We would buy him those mixes and he wouldn't touch them. I have used his recipe many times, it's the only bean soup I'd eat. Unfortunately I'd have to wing it now, since I can't find it and he's gone many years.

• Saco, Maine
9 May
Well, if you ever do find it, please share. This one's smelling pretty good so far, and I haven't added the flavor packet yet. If I like it, I'm going to experiment with other basic recipes. Although, this isn't really a mix per se. The beans are just a mix of different types, and the only additive's the flavor packet. I've tasted it already, and I may not even have to add it.

• United States
9 May
@Raelove
Being a country boy my father's recipe was very basic. One kind of beans, some ham, and whole canned tomatoes is basically what it was - I had a photo but I can't find it now.

• Saco, Maine
9 May
@AbbyGreenhill
I was wondering if tomatoes were included. Now I have to research some recipes.


• Saco, Maine
9 May
I really don't care for smoked sausage in a soup. It's too sweet. Smoked ham is preferable.

• Riga, Latvia
9 May
@Raelove
I love beans so thank you for sharing. Sounds delicious and I'll give it a try.

• Saco, Maine
9 May
@RasmaSandra
I hope they sell this type of beans where you are. If not, you can research the types that are included and get those you can and mix them. Good luck.

• Chile
9 May
Dry beans are one of my staple foods in winter. As I have problems now with the skin, I make bean soup. I soak them the night before in warm water and then boil them for 15 minutes in my pressure cooker with little water. I then add pork broth (I save all broths I get from boiling meats) and fry diced onion with crushed garlic and add. I blend them and sieve them. I serve them with homemade croutons. YUMMY!!!

• Saco, Maine
9 May
Sounds good. With this slow-cooker recipe, I didn't have to presoak them. I just rinsed them and that was it. Saving cooking broth is a good idea, too.

• Chile
9 May
@Raelove
I don´t have a slow cooker. My pressure cooker saves a lot of energy, but I know that some people fear it.

• United States
10 May
Soup does well in the slow-cooker and I'm sure your bean soup will be delicious as well as nutritious

• Saco, Maine
10 May
It was very good. And this was the best way to do a bean soup, as they take a long time to soften. Next time, though, I'll just do 1/2 the bag, as my cooker is too small for the whole thing. Once everything was added in, it came right to the top, so it bubbled over a little. Live and learn.

• Defiance, Ohio
9 May
I do enjoy a good bean soup if it isn't to salty and has flavor.

• Saco, Maine
9 May
This one was not too salty and it definitely had plenty of flavor. It was very good.

• Anniston, Alabama
9 May
I love bean soup but I don`t use the ham.

• Saco, Maine
9 May
I had some so thought I'd throw a few pieces in. Not a lot, though, as my pot was already full to the top!

• United States
9 May
Sounds like a very healthy soup indeed! I have never cooked with beans like that, but should give them a try.