This Could Be Yours, Tomorrow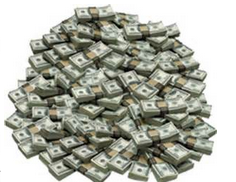 United States
May 11, 2016 10:22pm CST
@JJ posted a discussion that reminded me of a thought that has been festering. I will link to his http://www.mylot.com/post/2927833/there-is-a-difference-between-a-reasonable-goal-and-silliness My image says it all, in a way. Every day at least once or twice a day a person or two I know posts an image like this. It will say something about liking the image, sharing it, saying "amen" or typing "I believe" and you will find this treasure, or receive this gift within three days. The people who do this are supposedly "people of faith". These posts, thank goodness, do not say that God or Jesus will give you the money, but they rely heavily on luck. To me that is like carrying charms and other tokens of primitive beliefs. But you know, I won't say that to them. Believing in that kind of magic, or those superstitions just does not go along with how I perceive a blessing. It is more like trying to conjure. It is a silly fantasy idea, just like @JJ talked about.
10 responses

• Boston, Massachusetts
12 May 16
I am a person of faith and I do tell them that to share these memes is wrong. That's not the way God works, He doesn't count likes, shares or "amen" comments. People sometimes do silly things without thinking. It's up to the thinking people to set them back on the right road.

• United States
12 May 16
Good for you I am seeing more people calling out this kind of behavior. It is like verbally gambling or digitally gambling." It won't hurt and it might work" they seem to think. I do not think so.

• Boston, Massachusetts
12 May 16
@GardenGerty
It's Facebook and I see people sharing posts from pages that I am sure they really don't want to be associated with, but they don't think. I guess there will always be silly, gullible people, and it's hard to correct them because they really think they are doing the right and good thing. But good intentions coupled with wrong actions can really screw things up.

• United States
13 May 16
@Rollo1
They sure do. It also is a bad witness to others.

• United States
12 May 16
I get so aggravated with posts like that as well. They show up on my Facebook page all the time. That and chain letters are just a waste of space in my opinion. Of course we have the freedom of speech thing going on so I guess we have to put up with it. Another thing that bothers me is the posts, some very legitimate, that ask you to copy and paste instead of sharing. There is really no point in it because as soon as I like something or comment on it all my friends will get notified. Therefore I don't have to copy and paste it to my wall for them to see it. Not to mention anything that I do share goes on my wall automatically. I just think some people don't understand how Facebook works.


• United States
12 May 16
I am not techy savy but I think I read somewhere that if you copy and paste that in some way it gives access to your FB connections. I do not know. I occasionally do share something. I do not copy and paste. Often I share to keep the information, like a recipe for myself. I am disappointed in a couple of people I see doing this who are supposed to be spiritual leaders.

• United States
12 May 16
@GardenGerty
I can see that seeing spiritual leaders promoting these scams would be disappointing. I have talked to people that claimed they got a new car by "claiming" it in Jesus name while putting their hands on it. Then of course they remark on how many payments they still owe on it. If they claimed it and Jesus gave it to them why are they making payments? Just saying. But apparently some preachers teach this as a way to get what you want in life. Go figure.


• United States
13 May 16
@savak03
this really damages the credibility of the gospel. We do not always get what we want, but thank heavens we do not always get what we deserve, either.

• Centralia, Missouri
12 May 16
I wish I could conjure up some good fortune though

• United States
13 May 16
You guys need it right now. I wonder if anything will change with the economy after the elections.

• Centralia, Missouri
13 May 16

• United States
13 May 16
I agree with you. I don't care to see these.

• United States
13 May 16
I cannot understand how they can believe in that kind of thing. Maybe they are not really thinking.

• Canada
12 May 16
Superstition is just that... sometimes fun to consider... but nothing more than that. FB annoys me when people ask for amens... that is a private thing. They almost make it into a game.

• United States
13 May 16
You are right, it is like a game or gambling.


• United States
12 May 16
No, I do not either. I can sort of understand ignorant people doing this but not people who are supposed to be intelligent.

• Cagayan De Oro, Philippines
12 May 16
Only magicians trick, but I like magic of all sorts.


• United States
12 May 16
Magic is entertainment and should not be a lifestyle.


• United States
12 May 16
That could be a good solution.

• United States
12 May 16
would love to have a pile of that fall in my lap but unless I win a jackpot somewhere, it is highly unlikely!

• United States
12 May 16
And in order to win you have to enter. I do not think that the universe is mysteriously gonna put money in my lap. It sounds like a fortune cookie.


• United States
13 May 16
I often wonder what is missing in their life that they need that kind of fantasy.