Want Finches? Bring Niger!!

Canada
May 12, 2016 2:36pm CST
Bird brained? Originally, I believe that is intended as an insult, but don't be fooled! After only two days of my daughter putting out the beloved niger seeds, she has a little flock of gold finches waiting expectantly for her to put out more.

That the little birds found it in like less than a day after she had put the first batch out amazed me enough. Now, they seem to recognize HER as bringer of all wonderful things.

They don't fly away when she approaches, rather, they wait like puppies. I didn't even KNOW we had gold finches around us. Dopey me, I should have guessed. Put out a hummingbird feeder, you get hummingbirds. Put out finch seeds, you get finches.

Now who is the bird brain!? Do you have some bird feeders out yet? I want to put out seeds to attract jays and cardinals next!
5 responses

• United States
12 May 16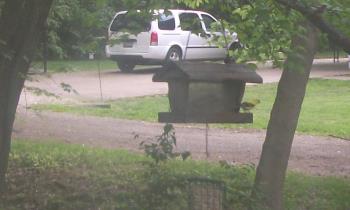 I constantly have cardinals out front, and I've had a pair of jays making the occasional appearance, and I even got a goldfinch last week.

• Canada
12 May 16
what seeds/feed do you find works best? Do you find that it is better to keep finch feeders away from feeders that would attract Jays? I have heard they are quite aggressive and I wouldn't want to scare the little ones away, even though the jays are beautiful too.

• United States
12 May 16
@sulynsi
That's the only goldfinch I've seen this year. I have a finch feeder near the front door, and I get house finches at it every day, but I can't remember the name of the seed I have in it.

• Canada
12 May 16
@JolietJake
if you can find niger seed (we bought it at Walmart) it looks all black rather like wild rice, I wonder if you would have the same result. 7- 9 finches from zero!! and all bright yellow! of course, keep Scar in the house when its feeding time!!



• United States
12 May 16
Your daughter does have her own little flock of followers. No bird feeders here since our pup Molly scares all birds away.

• United States
13 May 16
@sulynsi
My sister has four kitty cats and she does put them on a lead to avoid their killing of all things little. Molly never hurts the birds, she just yells at them to get out of her trees.


• United States
13 May 16
I don't have a bird feeder but I probably should

• United States
14 May 16
@sulynsi
lol yes but I am afraid the squirrels will be too and those I have in abundance. lol

• Ireland
13 May 16
I live in an apartment, no bird feeders for me

• Ireland
14 May 16
@sulynsi
lol.. ofc there's always the neighbour's cat! am not sure I want to feed it via birds!

• Greece
12 May 16
My friend loved feeding the birds in her garden and got worms from a fishing tackle shop and the robins came and ate them from her hand. She encouraged me to try and a robin did come and take the worm but I did not like having a worm wriggling about on my hand very much.