I like IKEA food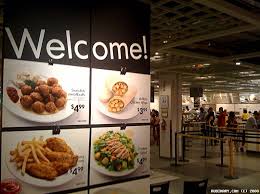 Guangzhou, China
9 responses


• Boise, Idaho
13 May 16
I thought you meant you like the fake food they might use in their pictures.

• Boise, Idaho
15 May 16
@youless
.....I think I would need some coaching to eat it if it didn't look good.



• Roseburg, Oregon
14 May 16
The one in the USA did not have food when we went there just furniture.


• United States
13 May 16
I never tried their foods heard its good like their meatballs though!!!

• Ciudad De Mexico, Mexico
13 May 16
I also go into the stores that sell whatever items and furniture, but only buy the things that are good for my stomach´s appetite.

• Los Angeles, California
13 May 16
Yes, IKEA does have some nice food treats.