Daily Bible Study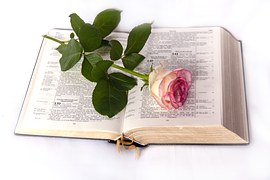 Green Bay, Wisconsin
May 13, 2016 1:19pm CST
Day 55 Psalm 55 Psalm 55:1 < Give ear to my prayer, O God; and hide not thyself from my supplication. 2 Attend unto me, and hear me: I mourn in my complaint, and make a noise; 3 Because of the voice of the enemy, because of the oppression of the wicked: for they cast iniquity upon me, and in wrath they hate me. 4 My heart is sore pained within me: and the terrors of death are fallen upon me. 5 Fearfulness and trembling are come upon me, and horror hath overwhelmed me. 6 And I said, Oh that I had wings like a dove! For then would I fly away, and be at rest. 7 Lo, then would I wander far off, and remain in the wilderness. Selah. 8 I would hasten my escape from the windy storm and tempest. 9 Destroy, O Lord, and divide their tongues: for I have seen violence and strife in the city. 10 Day and night they go about it upon the walls thereof: mischief also and sorrow are in the midst of it. 11 Wickedness is in the midst thereof: deceit and guile depart not from her streets. 12 For it was not an enemy that reproached me; then I could have borne it: neither was it he that hated me that did magnify himself against me; then I would have hid myself from him: 13 But it was thou, a man mine equal, my guide, and mine acquaintance. 14 We took sweet counsel together, and walked unto the house of God in company. 15 Let death seize upon them, and let them go down quick into hell: for wickedness is in their dwellings, and among them. 16 As for me, I will call upon God; and the LORD shall save me. 17 Evening, and morning, and at noon, will I pray, and cry aloud: and he shall hear my voice. 18 He hath delivered my soul in peace from the battle that was against me: for there were many with me. 19 God shall hear, and afflict them, even he that abides of old. Selah. Because they have no changes, therefore they fear not God. 20 He hath put forth his hands against such as be at peace with him: he hath broken his covenant. 21 The words of his mouth were smoother than butter, but war was in his heart: his words were softer than oil, yet were they drawn swords. 22 Cast thy burden upon the LORD, and he shall sustain thee: he shall never suffer the righteous to be moved. 23 But thou, O God, shalt bring them down into the pit of destruction: bloody and deceitful men shall not live out half their days; but I will trust in thee. What is the most important tool at your disposal, your go-to tool that you can count on in every situation? David's tool was prayer. It was the first thing he did whenever he felt trapped by his enemies. It was the first tool he reached for when he was happy and rejoiced at God's victories in his life. Prayer was the one thing he relied on in every situation in his life. Prayer should be our go-to tool. Prayer changes things. It makes us aware how vulnerable we are, and how much we need God in every situation in our lives. David was in trouble. Only it wasn't foreign enemies, it was from people he knew. He felt betrayed because his enemies were people he went to the temple with, and might have eaten at his table with. They were people he knew intimately. Yet David did not take it upon himself to go against them. He went to God and asked that God destroy them for all they had done to him. Don't you feel the same way at times? When people you trusted, people who were your friends, betrayed your trust, don't you want to destroy them in any way you can? You want to get your honor back. You want them to feel the shame they put you through. However, life doesn't work like that. Rarely does the person who came against you feel any remorse for what they did. There is only one thing you can do, and that is take it to God in prayer and let him take care of the situation. He will get your honor back. He will take care of your enemies. Prayer is the most powerful tool at your disposal. It should be used often, every day. It works well when things are going right in your life and when things go wrong. David knew his answer was found in God. He knew God would hear him and would act on his behalf. He knew God would take care of his enemies. You can have the same confidence David had when you apply the power of prayer to your life, and use the only tool, the only weapon you have at your disposal against every situation Satan brings against you. When you apply prayer, Satan is defenseless and cannot stand against you, and the situation in your life will disappear. The next time you have a problem reach for the tool that will help in every situation – prayer. Let's pray: Father, thank you for giving me the one tool that can defeat Satan and render him defenseless. Help me employ prayer and use it in every situation in my life. In Jesus' name, I pray, amen. Copyright ©13 May 2016 by Valerie Jean Routhieaux Image courtesy of Pixabay
4 responses


• Green Bay, Wisconsin
16 May 16
I don't know if it would be a breeze, but it sure would be easier. When you use the right tool to repair things, they just work better. It's hard to use a flat head screwdriver when a Phillips is needed. You can use it but it takes longer to make repairs. When we employ prayer as a tool against our common enemy, he will flee.

• Ireland
14 May 16
No, people who wronged you will not feel the remorse. Instead, they will go out of their way to justify their action towards you. Its because deep down in the back of their head, they know they did wrong, so will do anything to cover that shred of realization. Just to make themselves feel better, they will probably add insults to injury by adding more support to what they did. What can I do? try not to let my anger for vengeance consumes me and turn me into a twisted person. That's actually the ultimate damage these people can do.

• Green Bay, Wisconsin
16 May 16
That's when you reach into God's toolbox and employ prayer and he will help you by repairing the damage done and will also go after your enemies.

• Rochester, New York
14 May 16
I think you should write a book with the Daily Bible Study as the title. I know a few who would love it!

• Green Bay, Wisconsin
14 May 16
Thank you, but that is something I won't do. I will not sell God's Word. Not even my Bible Studies. I'm grateful when people are blessed by them. That lets me know God is at work. I'm only his instrument in these studies.

• Ciudad De Mexico, Mexico
13 May 16
Powerful tool to count on when things tend to oppress the shoulders. The Psalms are powerful!

• Green Bay, Wisconsin
13 May 16
I don't know a more powerful tool.