Paid from Mint Vine paid survey site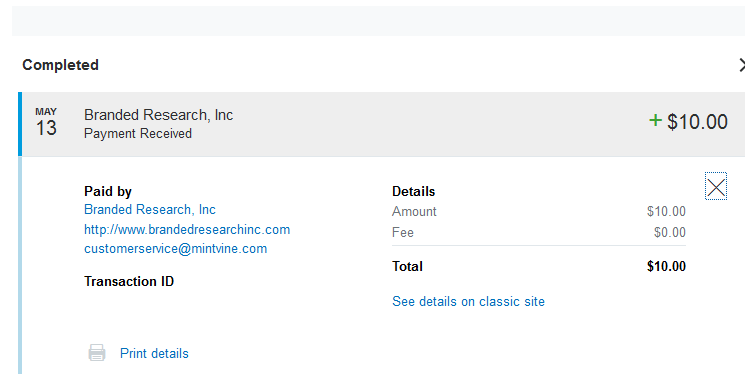 United States
May 13, 2016 1:52pm CST
I don't normally start discussions like this but I also don't normally start using "newer" online earning sites. I heard someone on MyLot talking about MintVine, which apparently is a paid survey site, so I gave it a whirl and finally got paid just today from it - my first $10.00 via PayPal (as pictured). I will probably continue to use it only when I run out of surveys or writing assignments at my main websites. What I have noticed about Mint Vine: -Payout takes a while - credits have to be approved from the research companies which seems to take several weeks. And then, once you cash it out, seems to take another week or for MintVine to approve and send your payout. So, not a short ordeal, but it certainly is legitimate. -One thing I like about MintVine is that they give you a few points even when you do not qualify for a survey. So, many times, I would get 5 points just for trying (to put that in perspective, 1000 points is $10.00). Many paid survey sites enter you enter you into a bogus drawing (I shouldn't say "bogus", but I know I certainly haven't won anything - lol). I would suggest folks to check it out, it maybe a way to earn an extra $10 a month or something similar... I do not know which countries they allow members from, by the way. What about you? Have you tried this site? Or have you gotten into any new earning sites?
7 responses

• Wausau, Wisconsin
13 May 16
Nice. I usually skip their emails. Maybe I should start doing them lol

• United States
13 May 16
Yeah! I usually ignore them too - but they are OK. Some surveys you can do on your smart phone, or at least I have, which is kind of nice....I still like other survey sites better, but it's a good alternative when those other sites run out of surveys. It's legitimate, for now, though!

• United States
13 May 16
No, but I am going to try this site right now. I've never heard of this site before, so thank you for the introduction!

• United States
20 May 16
@maezee
I just cashed out for a $10 Amazon gift card yesterday and am awaiting the payment (it's pending). Seems like it does work!

• United States
25 Jun 16
@zarlamain
Sweet, good for you. I didn't realize they did Amazon gift cards.



• Kingston, New York
16 May 16
I am just start doing this site.


• United States
13 May 16
I have not tried this site, but would like to try since it seems to be a reputable one. Thank you for alerting us to this site!