What Did I Do?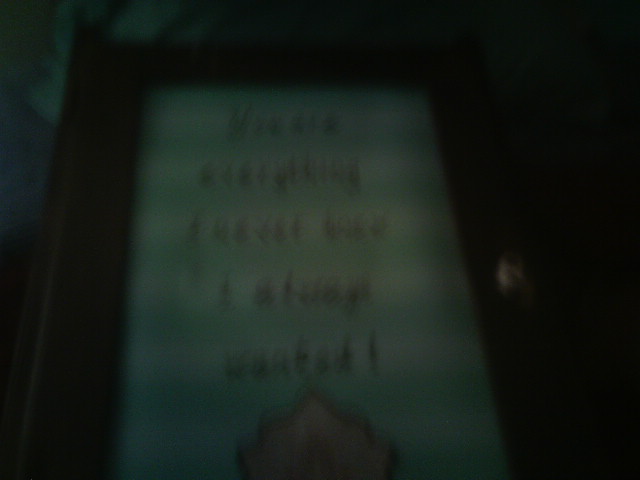 United States
May 13, 2016 10:34pm CST
Well, I said that I was not gonna say what I was going to do, until I did it. I was going to do lots of usual stuff. I was going to get ready for a trip. I was going to mow, but the mower would not start and then a storm blew in. I actually got to do a little crafting. It has been a while. First, I am cheap. . . or frugal. I love to look in craft stores but I hate to spend $20 or $25 for a plain painted frame with a "cute" saying written on a piece of art paper. Even if hubby really likes it. My camera does not take indoor pictures well, the flash seldom works, so this is blurry. It says "You are everything I never knew I always wanted it." On the other hand. . . I had this little cabinet that used to have a mirror in the door. It needed some "art" because the mirror broke. I bought some poster board I really liked. I was going to write the saying with stickers, but even with two packages of stickers, there were not going to be enough "e"s. So I wrote it. I added an embellishment cut from scrapbook paper and accented with black marker as well. So that is one of the things I did not tell you I was going to do. The other thing was to plant some of my flowers I bought last week.
8 responses

• Centralia, Missouri
14 May 16
I like borrowing ideas from places like that too, and making it myself for a fraction of the cost

• Alicante, Spain
14 May 16
Yeahhh me too...
@Jessicalynnt
cheeky...but fun,


• United States
16 May 16
I am always intending to do that, and often do not quite get it done.

• United States
16 May 16
I managed to get the "bloomers" planted so that is two down. Now it is raining and raining on them.

• Australia
17 May 16
@GardenGerty
lucky you with the rain. we need lots and lots. Today was cloudy and like it was going to rain but the clouds stayed and it became hot!

• United States
14 May 16
Love that saying. I'll have to use it for maybe a craft project of my own. I am cheap/frugal too. I wouldn't pay for a framed saying either. Just like you have done, I will take a pic with my phone and keep it for use later when I am ready to make it. I have to dig up the flower beds soon and plant the seedlings I started a month ago. I also want to plant some morning glories.

• United States
16 May 16
My experience with morning glories is that once planted, they will take care of the chore themselves in the future. I had them in the soil where I planted my very first garden. My sister planted them to decorate a fence and they ate her mailbox. Very beautifully I might add. The saying originally was from the movie Fool's Rush In from the 90's.

• United States
16 May 16
@GardenGerty
I plan to plant them near the fence post in the front yard. They will be glorious!!!

• Bunbury, Australia
14 May 16
Have just commented on your other post. I'm glad you have satisfied my curiosity and told us all about it.

• United States
16 May 16
Nothing really big and exciting, except for me as I have been putting off doing it. I think we have dandelions like the ones you showed me in a picture. My brother has them randomly in his yard and they look neat.

• Bunbury, Australia
17 May 16
@GardenGerty
And I think we have the English ones too judging by my research and what I've seen around here.

• Holiday, Florida
16 May 16
well as my late hubby used to say, as long as you enjoyed it what is the problem.


• United States
16 May 16
I did enjoy it. And the store had taken the line from a movie.

• Alicante, Spain
14 May 16
Thats sounds nice ... I love crafting and Especially when improvising... and it turns out good....



• United States
16 May 16
Yeah, I wish the pic was better but my flash does not work very often and we have had cloudy days. All the more reason to do something fun.

• United States
16 May 16
Breaking routine was nice, too.

• Philippines
14 May 16
crafting is real fun but costly if you want a nice and decent output. i used to do a lot of those but i ran out of space i guess or it's becoming messy on my table. too bad the picture isnt that clear but im sure it's something in person.

• United States
16 May 16
It really put a smile on his face. I am hoping that when our income tax money comes in I can get a new camera.