Things to do on a Saturday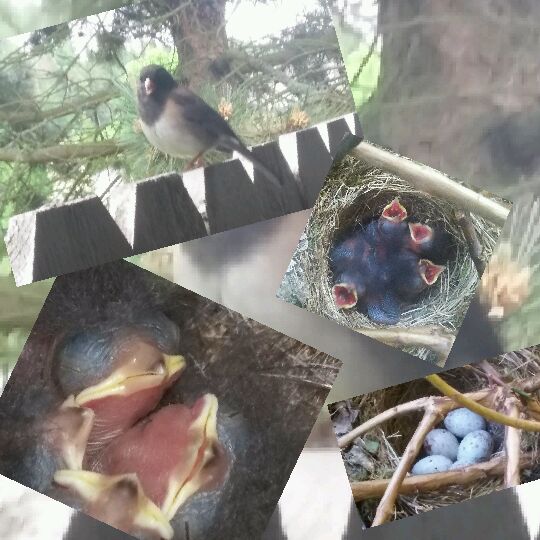 United States
May 14, 2016 6:48pm CST
I left my home about 11 o'clock this morning. I checked on the birds, and I can hardly believe how much they've grown in only 5 days. They are beginning to look like birds, instead of just prehistoric pterodactyls. I returned the DVD of the second season of Orphan Black to the library. I picked up several other DVDs-- Heartbreak Ridge, Noah, and The Pianist. I also picked up the first two seasons of Ricky Gervais in The Office. I had a package that I got out to a friend of mine in Minnesota whose son just turned one year of age. Her little man is now wearing clothes in a size 2 toddler. All the things that I bought a year ago I have to find someone else with a little boy to give them to. I've been sitting here at Starbucks having a coffee talking to several people who have stopped and sat down in the chair is where I'm at. One woman, named Kristy, just finished her nurse practitioner education, graduating last week. We ended up talking about neuroendocrine tumors, also known as carcinoid cancer. She thanked me for helping to educate her more and she took my email and I'm going to send her more information. It was nice to have a medical professional ask for more information and be willing to open herself up for more knowledge. We didn't have sunshine today, at all. It's been grey and raining quite steadily today. Many people are complaining about the rain. I love it because it makes everything smell much more fresh. A good rain also Waters the plant much more effectively than me with a hose for a few minutes. I should probably think about going home now. I'm also going to figure out what is playing on the base at the movie theater. I might be able to get a little bit newer movies then some that I will have a week to watch. I hope everybody is doing well and you're having a great Saturday!
7 responses

• United States
15 May 16
It sounds as if you have had a very busy Saturday. Mine has just begun really. I'm listening to calming music and will be off to work in a few hours. My next day off isn't until Monday.

• United States
15 May 16
@ScribbledAdNauseum
I had to work today and will have to work tomorrow thru Thursday until my next 3 days off.

• Boise, Idaho
15 May 16
Are you understanding Orphan Black. I started watching it on BBC last season and so I am lost. I like the characters and the storyline that I am able to understand. They have an after show on after the new episode and that is helpful for the new ones but not understand totally the entire thing up to this point. A nurse who wants more knowledge is a good thing. I should make it over to the Starbucks here. It is only about four blocks away. Maybe I could meet someone to hang out with. That would be nice.

• United States
16 May 16
I started with the first season, and now finished the second season. I am understanding more after watching those two seasons then I did before. I'm still not quite sure but I'm hoping that some of these things will become known to me with season three. As far as the Starbucks, I am going to those places because at least I can sit by myself and then if somebody talks to me it's fine, but if they don't it's okay as well. I feel safer doing things in that kind of way than I do just going up and talking to people at social events.

• Boise, Idaho
16 May 16

• United States
17 May 16
@celticeagle
it is complex and I didn't really like the first season. But after watching the second season it's starting to grow on me


• North Myrtle Beach, South Carolina
15 May 16
I am a registered nurse, and I will be the first to admit, there is a lot we don't now. I really appreciate it when a family member or patient shares what they have learned about their illnesses and diseases. We all have a lot to learn, no matter who we are, and who best to teach than the ones who have lived it.

• United States
15 May 16
I am so glad to hear that from you. My experience with medical professionals, especially doctors, is that they know more than the patient does. And they have become upset when we challenged.

• North Myrtle Beach, South Carolina
15 May 16
@CoralLevang
No one knows you (or a loved one) any better than you do.


• United States
15 May 16
@cindiowens
you are touching my heart and I am feeling very emotional right now. Thank you.


• United States
14 May 16
Nice to meet people who are genuinely listening to what we have to offer. I have met people and tried to start conversations with them only to have them turn a deaf ear. Their loss. I have also met people that would sit and talk your ear off. Love that. We had a brief rain tonight. Was hoping and still am hoping it will rain enough to water the garden so the green and yellow beans I have planted will begin to sprout.

• United States
15 May 16
Where about do you live? I live in the Pacific Northwest on the Kitsap peninsula of Washington State.

• United States
15 May 16

• United States
15 May 16



• United States
14 May 16
That they are! I have also noticed that the parents are becoming a little bit more nervous with me around. They weren't so bad when it was just in the hatching and initial couple of days stage .m but now that they're getting older, the parents seem to be a little bit more chattering with me. Nestlings I have heard not a peep come from them

• St. Louis, Missouri
14 May 16
@CoralLevang
Watch out for dive bombings from the parents as the babies get older! As they are more apt to leave the nest, the parents will get more aggressive.

• United States
15 May 16
@Lolaze
well they're letting me get very close right now, but they are chattering a little bit more

• Bern, Switzerland
14 May 16
You did enough for one day,hope when you get home, you can put your feet up and enjoy the DVDs. Bought something to someone a year ago and never sent it? what a waste but im sure who ever you give them to will sure be grateful.

• United States
14 May 16
By the time I got around to sending it he was already a few months old and it was too small for him

• Bern, Switzerland
15 May 16
@CoralLevang
Im sure the mum will love the ones you`re sending. Bught some clothes for my little cousin then l went away and forgot to post, took almost a year before i posted, ended up giving them to a work mate whoe`S girlfriend had a baby.He was so happy because he thought l bought it specially for him

• United States
15 May 16
It's always nice when someone wants our expertise. Those tiny birds are just so cute.