The call of the wild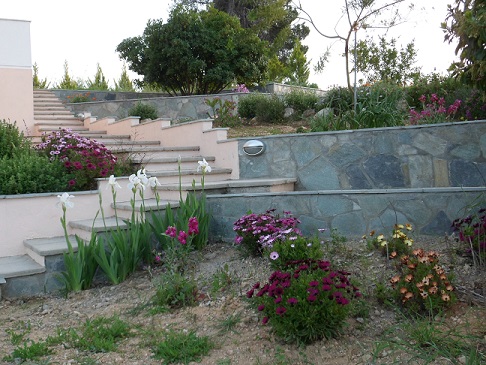 Greece
May 16, 2016 1:13am CST
Monday morning is my favourite day of the week. It is a busy one because I need to have most of my routine jobs finished early so that I can enjoy a coffee break with my daughter in England via Skype. So, the jobs are calling but I am ignoring them in spite of their insistence. My overwhelming desire this morning is to forget the work in the house and go outside and enjoy the work in the garden before that much enjoyed coffee date takes place. So today my focus has changed, my working gear is on, my feet in sensible shoes and I am going to do what I enjoy doing most. It may be simply the call of the wild, which describes at least some parts of my garden, or maybe just a knee jerk reaction against the mundane routines of domesticity.
8 responses

• Bunbury, Australia
16 May 16
My mother always believed gardening was very therapeutic. I can quite believe it but I don't enjoy doing my own gardening much. I always liked doing the heavy work for my Mum or helping where I could.

• Greece
16 May 16
It is certainly therapeutic, perhaps not quite so when in the back of my mind the jobs waiting indoors are haunting me. My mother loved gardening, my father hated it. I'm glad I have taken after her, dad did the hard work and she planted the flowers.


• Greece
16 May 16
Most of the garden is not so pretty, we built on land that was wild and hilly and taming it has not been easy. It is lovely to see the flowers growing where once it was stones, oregano and burned out trees and bushes - result of a wild fire several years before we moved here and decided to build.

• United States
16 May 16

• Greece
17 May 16
@ElicBxn
No but you can have too much of a good thing and too little of variety.


• Greece
17 May 16
It is a photo of a couple of Springs ago, I noticed when I checked it out that the irises need thinning now and that particular patch is one that I am having to revamp this summer. Why can't things stay looking nice instead of getting weedy and woody.

• United Kingdom
17 May 16
@41CombedaleRoad
It looks lovely, but I hope your knees and hips are ok - all those steps!

• United States
16 May 16
Sounds like an enjoyable day. I too am going to ignore my work calling me, at least for a few more hours.

• Greece
17 May 16
I hope you had a productive and enjoyable day.

• Northampton, England
16 May 16

• Greece
17 May 16
Thank you, they are nice and I would love to find some mauve ones to go with them.

• Northampton, England
17 May 16

• South Africa
16 May 16
I love your attitude - I dont like to be in any routine so today I also shook off the cains of Housework and went strolling in the shops with my hubby and so glad I did - Found a new German outlet that is selling all the wonderful Black Forrest smoked ham and other delights

• Greece
17 May 16
Good for you. Perhaps you came home and made a nice sandwich with the smoked ham!


• Greece
17 May 16
I have hay fever so I try to go out when it is not windy and early in the morning rather than later when the pollen has risen.