Not Knowing Who You Are Talking To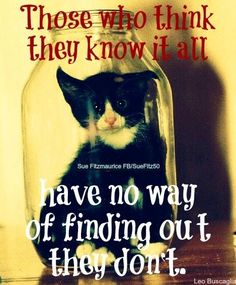 Kingston, Jamaica
May 16, 2016 4:41pm CST
In ancient days there was IRC Chat. A lot of 'name brand' people used it. For example; Wood Owl was actually Al Gore, the Vice President of the United States and Ask Bill was Bill Gates of Microsoft. You'd be on IRC Chat having a conversation when someone who didn't know the person behind the nick would start telling Owl about politics, or Bill about Windows and those of us who know the person behind the nick would be rotfloao.... Really. Those who had been there learned that they don't know who is behind the nick. You don't know where someone comes from, (unless it is admitted and is admitted honestly) you don't know their status, (they could be the Prime Minister or a Resident of a mental institutiion....trust me...I've banged into both). When someone posts something, unless you know, for a dead on Fact, be a bit cautious. For example. I live in Jamaica. I know exactly where Parliament sits. I have physically been there. If someone comes on and says that Parliament sits in any other location except Gordon House, I know they are wrong. I know, not because I heard it, or someone told me, but because I physically was there. When someone states something, unless you know, for a fact, I mean a hard cold fact, (just as I can walk to the Parliament and walk into the building) be a bit careful when attacking them. Think of those fools who tried to tell Ask Bill about Windows.
4 responses


• Kingston, Jamaica
17 May 16
I have had people attack discussions/articles I've posted.... I'll give you an example... I posted the '5 Houses Puzzle' and people attacked it... one saying; "What kind of idiot created this puzzle?" I answered...."Einstein." I posted a particular psychological interview...and of course it was attacked one genius saying..."I've studied Psychology for three years and it is not like anything I ever learned!" Then I admitted, it was Freud's study. I will post items about writing by Stephen King, but leave his name off it, so that people can attack it.


• Harrells, North Carolina
16 May 16
You are right there. I always say if i am not for sure i will say if i am not mistaken but i could be wrong.

• Harrells, North Carolina
16 May 16
@tallawah
I feel that is the safest way to handle it.


• Bunbury, Australia
16 May 16
Good point. I bet 'those behind the nicknames' had a good few laughs at times.

• Kingston, Jamaica
16 May 16
We did...at first it was like...pm'ing all over the place...'we got one!' and everyone would pile into the chat to see the idiot. But then, it was annoying, and so when the idiot would say something, everyone ignored him/her/it. Then, why bother?

• Chile
16 May 16
That´s why my answers start always with "I think" or "I feel".

Even if I think I know, there is no such a thing as complete objetivity.