Tadpole Spring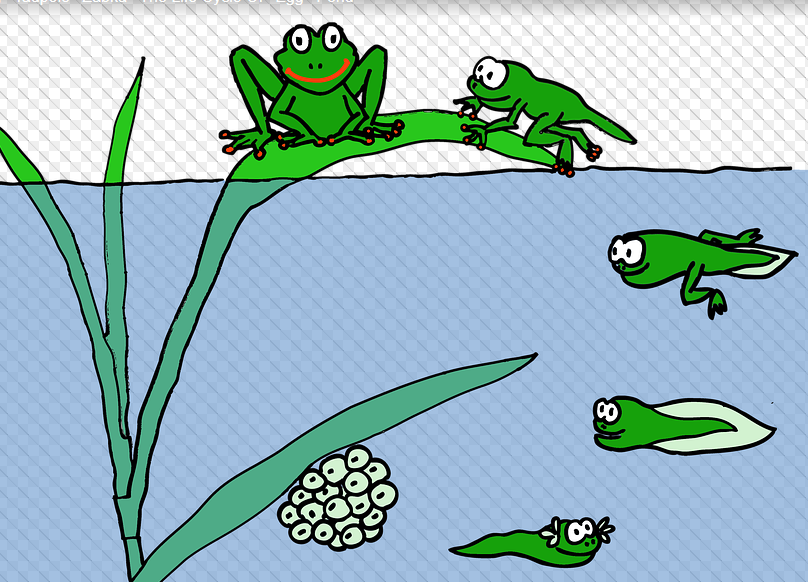 United States
May 17, 2016 9:27am CST
Did you ever catch a tadpole? Did you raise it to be a frog? This is a free image that shows the life cycle of the frog, from egg on through all stages of tadpole. Seeing the water run off by the road yesterday took me back to being a kid. At church there was a ditch that was perfect to find tadpoles in the spring and summer. Mom would make us let them go. One year, though, my back fence neighbor had us baby sit her tadpole while she went on vacation. We got to see the transformation into the frog. The little frog happily moved into our garden when the change was complete. I do not know of any kids, even my own, who are adults that ever did this. Oh, sure, the teachers might order some tadpoles in a kit for the classroom, but it just is not the same. It is no wonder we have lost touch with nature. There is nothing like a muddy mucky ditch filled with tadpoles and crawdads.
9 responses

• Momence, Illinois
17 May 16
Listening to the frogs at night while out camping is one of my favorite things. Never raised one though. There are so many different frogs and the calls they make are just wonderful.

• United States
17 May 16
I have heard people complain about the noisy frogs but I enjoy the sound at night.

• Momence, Illinois
19 May 16
@GardenGerty
I do too and they can be so loud my ears ring, but I just love it.

• United States
22 May 16
@fishtiger58
I love to be where I can hear nature sounds at night or daytime either one.


• United States
17 May 16
I remember doing this looking at all the crawdads and tadpoles in streams when I was a child Heather. It was so fascinating.

• United States
17 May 16
I know, those streams in the woods with little fish were cool too. Gives a great appreciation for nature.

• Bunbury, Australia
17 May 16
Watching taddies become frogs is a small miracle on its own, isn't it?

• United States
17 May 16
It is. I grew up with living things and growing things and lots of stuff kids today never learn about except from books.

• Bunbury, Australia
18 May 16
@GardenGerty
And it is such a shame. I'm astonished sometimes at seemingly simple facts that come as a complete surprise to kids.

• United States
18 May 16
@JudyEv
The schools try, or at least they did when my kids were there. I remember them looking at water in a microscope and I worked with a class where the teacher ordered crawdads (crayfish).The students handled them, learned their anatomy, named them and when the year was over they went home to the creek by the teacher's house.

• Green Bay, Wisconsin
18 May 16
Oh the memories that provokes. I remember lying on my stomach looking into the ditch where there was a little bit of water and I could see all those tadpole's swimming around. I didn't take any though or watch them transform, that's totally awesome. I agree, the days of Dennis the Menace with a grubby face or Opey with his fishing pole seem to be long gone. Kids just don't know how to have fun anymore.

• United States
18 May 16
Over the years I "collected" many things and was encouraged to let them go. I was out doors and could identify plants and animals and bugs just as easily as I knew people. I think my kids were that way, and my daughter's kids may be.

• Green Bay, Wisconsin
19 May 16

• Centralia, Missouri
17 May 16
my dad was a park ranger, on a park with a nature center, we saw all kinds of things. I got to even handle the resident boa. was fun

• United States
22 May 16
What a great way to grow up! I imagine those are good memories.

• Roseburg, Oregon
17 May 16
My youngest two son brought home these great big bull frogs. Filled up the bathtub with water and than closed the bathroom door and left. When I came home those bull frogs were jumping all over the bathroom. I made them take them back to the pond.

• United States
18 May 16
What a hoot! at least they were not crocodiles.


• United States
18 May 16
Well my neighbor had cared for it until it had grown legs. I bet I know a few kids who might like it.

• United States
17 May 16
I never personally caught any, but I had friends that did.

• United States
17 May 16
Mom tended to have us let everything free after we caught it. I learned a lot about nature that way.


• United States
17 May 16
I was the big sister, and we had one older as well. I got to have fun. My best friend's big brother helped us learn about things too.