I can't Stop!! L.O.L.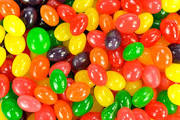 United States
May 17, 2016 1:44pm CST
I have like three bags of Jelly Beans!! I have a candy dish on my coffee table and it is full of them so I was trying not to smoke too many cigarettes so I said well I have some Jelly Beans and I am trying one color at a time L.O.L.

I know I need to stop and it is not healthy and bad for my teeth so maybe I should just say no? No More!! I gave a few bags away to my neighbors so I wouldn't do this! I got them at the food pantry that I had gone too last week and there were so many bags of them and they said help yourselves. So we did. I guess I should stop before I get sick. L.O.L.
6 responses

• United States
17 May 16
I am the same way with chips. It's not easy to stop eating until I finish a whole bag of chips!

• United States
23 May 16
I have that same problem with chips too L.O.L. I can eat the whole bag


• United States
23 May 16
@jahernandezrivas
Exactly! I just keep eating and I end up reaching the bottom of the bag. I'm like, where did they all go?



• Eugene, Oregon
17 May 16
Jelly beans are my favorite candy too, and I know what you mean, about not being able to stop, as I can't stop either, and I know I really should. I am the only one in my house, so no one to share them with, and that suits me just fine.

The more the merrier for me I say.


• United States
17 May 16
Don't feel too bad i would say those jelly beans ar better then your smoking. Help yourself to as many as you need to help you quit. After that you can find something to get you off the jelly beans. I don't know how I did it but i quit cold turkey. Every craving I had just made me stronger. I knew one day that it would be my last. Adrain is chewing gum like cray but it's been months for him and about 2 years three in august. Keep it up you cna do it.

• Cuyahoga Falls, Ohio
17 May 16
I love jellybeans. You should eat them in moderation.