Daily Bible Study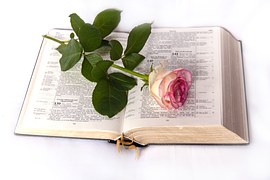 Green Bay, Wisconsin
May 19, 2016 8:28am CST
Day 61 Psalm 61 Psalm 61:1 < Hear my cry, O God; attend unto my prayer. 2 From the end of the earth will I cry unto thee, when my heart is overwhelmed: lead me to the rock that is higher than I. 3 For thou hast been a shelter for me, and a strong tower from the enemy. 4 I will abide in thy tabernacle forever: I will trust in the covert of thy wings. Selah. 5 For thou, O God, hast heard my vows: thou hast given me the heritage of those that fear thy name. 6 Thou wilt prolong the king's life: and his years as many generations. 7 He shall abide before God forever: O prepare mercy and truth, which may preserve him. 8 So will I sing praise unto thy name forever, that I may daily perform my vows. Life has a way of becoming more than we can handle. We seem to go from crisis to crisis with no break in between. Nothing seems to go right. Yet, we do not give up. We keep persevering, always hoping for a breakthrough that will change everything. David's life changed the moment Samuel poured the oil on his head and proclaimed him the next king of Israel. It would be many years before he actually sat on the throne. Before he did he would be running for his life from King Saul. He would find himself in the court of the king of the Philistines. Someone would kidnap his wives and children as well as those of the men under him while he occupied the city of Ziklag in Philistine country. Then once he did take the throne, his son rose up against him and once again, he was fleeing for his life. Yet in every instance David sought God's help. He relied on God to take care of his enemies. He trusted God to bring him through the battle, and God always did. When David said he was overwhelmed, he was. He too wanted to see an end to the constant trouble that hounded him. However, David never gave up on God. Where does your faith stand? Whom do you trust when life feels so overwhelming you want to just stand in the middle of the room and scream? Those are the times that try men's souls. Those are the times when you are put through the fire of adversity to find out if you will stand or fall. Those are the times when you will see a breakthrough in your life if you never give up. As Christians our faith is in Jesus Christ to carry us through each trial Satan brings against us. When we place our hope and lives in Jesus' care, and rely on his strength to bring us through, we will see victories in our lives. David saw victories, not just one, but many. For each battle he went through there was a victory to gain. That victory was wrought only by God's hand because he trusted God to bring him through. He did not trust in his own strength, or that of the men in his armies. He trusted God. If you look over the expanse of your life, you will see the many victories gained because God brought you through. When life feels overwhelming go to the Rock of your salvation, and he will hear your prayer and bring you through your crisis. Let's pray: Father, thank you for bringing about the victories in my life when life seems overwhelming. Help me keep my eyes on you and turn to you when Satan wants to destroy me yet again. In Jesus' name, I pray, amen. Copyright © 19 May 2016 by Valerie Jean Routhieaux Image courtesy of Pixabay
3 responses

• Ireland
19 May 16
Definitely life's stress could easy overwhelm us. Though since I've found the Lord, I've always felt he carried me though the time of crisis. So that I could accomplish what I couldn't do alone

• Green Bay, Wisconsin
19 May 16

• United States
2 Jun 17
As my faith stands strong some may argue HOW I embrace it and seek more on my journey in places that are NOT worthy of a religious or spiritual nature to others indoctrinated differently; yet still I am truly appreciating that we are our own enemy and I don't blame someone I cannot see for my own mistakes and imperfections.

• Green Bay, Wisconsin
2 Jun 17
It's good you don't blame someone else for your mistakes.

• United States
2 Jun 17
@just4him
if I did there is no accountability on my part being exercised and everyone involved in some argument or squabble or disagreement is at least 50% wrong . . .

• United States
19 May 16
An encouraging word this morning. Have a blessed day

• Green Bay, Wisconsin
19 May 16
Thank you and you as well.