Tired or Sick?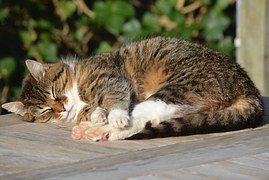 United States
May 19, 2016 7:12pm CST
Well, it's been a very strange Thursday for me. I thought I got a pretty good night's sleep, but when my alarm went off at 9:30am, I could barely move. I knew I had a delivery coming from my pharmacy and the FedEx guy was coming to pick up my broken phone to send it back to the manufacturer for either a fix or a replacement. So, I needed to be at least semi-awake. I know that my buzzer is loud enough to wake me up, so I got dressed and laid down on the bed again. My phone rang at 10am, but it wasn't anything important so I fell asleep again. The buzzer went off a little after 11am. That was the guy from the pharmacy. Got my meds and I decided to get up and have some coffee. The FedEx guy came just before noon. Off went my phone and I decided to go back to bed. I just wasn't feeling right. I got into bed and fell asleep immediately (wish I could do that at night! lol). I slept until 3:30pm. When I got up, I made some lunch and got some iced tea and then the sneezing began. I sneezed off and on for a few hours. That's never a good sign. It usually means I'm not getting enough sleep and I'm about to get sick. So while I was going to schedule a trip to the food bank tomorrow, I decided to wait until Monday and use tomorrow and the weekend to sleep as much as my body needs. And hopefully, I won't get sick. I hope your day has gone better than mine! I'm waiting for my nephew to call and then I'll be taking a hot shower and going back to bed. This should be interesting! lol -Claudia-
6 responses

• United States
20 May 16
Do you have allergies? This time of year I would be down for the count if I didn't take my allergy meds. Last year I had to go to urgent care because I couldn't breathe through my nose. I was so congested. Sneezed nonstop! Had to sleep sitting up because when I would lay down I ended up coughing from the post nasal drip. Horrible.

• United States
20 May 16
No I don't really have allergies. I go through this sneezing thing occasionally and it's always a sign to me that my sleep needs help. And it does! lol

• United States
20 May 16
@CRK109
try take it easy then. Rest when you are weary.


• United States
20 May 16

• Philippines
20 May 16
I hope you'll be getting better soon, Ms.Claudia :) (I'm logging off for now to visit my nephew in the hospital.)

• United States
20 May 16
thank you! I hope your nephew is doing better!

• Philippines
20 May 16
@CRK109
Thank you too, Ms. Claudia. My nephew is being attended to. Don't tire yourself.


• United States
20 May 16
I rarely get a good night's sleep anymore so it's been building up. This weekend should help.

• Roseburg, Oregon
20 May 16
I hope you are able to get the sleep that you need.

• Banks, Oregon
20 May 16
Get well soon. I am a little tired today too.