The Thrush Bird Family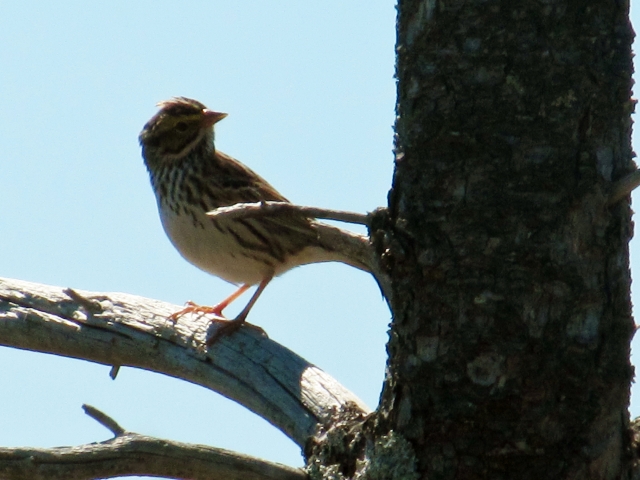 Saco, Maine
May 21, 2016 8:44am CST
Years ago, I lived in a densely wooded area where I was privileged to have my first experience with thrushes, a family of birds that are more often heard than seen. And believe me, once you're heard a thrush, you know you've experienced something special. It took me awhile to realize that these were no ordinary birds, so I did some researching and learned that there are several species native to this area that have such similar markings that they are hard to tell apart. Those include the hermit thrush, the wood thrush, Swainson's thrush and the veery. I took a photo of one on my bog walk awhile ago, but I can't tell for sure which species it is, so I won't venture a guess. Other members of the thrush family that folks might be more familiar with are the American robin, the eastern, western, and mountain bluebirds, the varied thrush, and Townsend's solitaire. Their songs aren't that spectacular, but those of the birds that are native to this part of the world are, and the first time I heard one, I was in shock. The best way I can describe it is to say that these small birds must have picked up a flute and started to play it. Otherwise, just check out the link I included at the bottom of this post to listen to them. One evening last week, I heard one of them in the trees outside my living room window. These woods are not far from the bog, so it's very possible that many of the same thrushes frequent both areas. Lucky for me, because their songs take me back to that wonderful place I once shared with them, an experience I will never forget. Photo Copyright@2016 Rachel Lovejoy

All About Birds Bird Guide See more families in this Order: PASSERIFORMES © Beth DonaldEastern Bluebird Sialia sialisTypical Voice © Jamie ChavezWestern Bluebird Sialia mexicanaTypical Voice © Gerrit VynMountain Bluebird Sialia currucoidesTypical Voice © D
8 responses

• El Paso, Texas
21 May 16
I'm not sure we have any here at all but I did look up Thrush and listened to the videos they made of them singing, very pretty, I haven't heard that sound here though.

• Saco, Maine
21 May 16
The first time I heard it, I was in awe. Like nothing I'd ever heard before. A real gift.

• El Paso, Texas
21 May 16
I'd have to agree with that
@Raelove
too bad they don't come to our desert regions.

• Saco, Maine
21 May 16
@rebelann
I'll just bet you have some pretty interesting birds down your way, too. You should research that, as I'm sure you'd be pretty amazed. I love birds!


• United States
22 May 16
I'm not sure I've ever heard a thrush, although there are birds I've heard but never seen, so I guess it's possible! When I lived at the house, I heard so many birds and I saw even more. I loved it. I don't see as many now because I'm up so much higher than the trees. I miss all the birds. I hear them occasionally but not like I used to.

• Saco, Maine
22 May 16
The American robin is a thrush, so I'm sure you've seen one of them. And their song isn't bad either, quite melodious. If you've seen a bluebird, then you've see another member of the thrush family. The one in my photo is one of the species that you don't see very often, as they live in the deep woods.

• United States
23 May 16
@Raelove
Robins abound in this area. When I go to visit my old house, I see robins everywhere. I'm not sure I've ever seen a bluebird, though.

• Saco, Maine
23 May 16
@CRK109
Bluebirds frequent open areas, fields, etc. I've seen one only once in my life, and that was a treat.


• Bunbury, Australia
24 May 16
Sometimes the differences in a family of birds are very minute. And the undersides can be completely different in colour from most of what you see which again can make identification difficult.

• Saco, Maine
24 May 16
That is so true. In North American alone, there are dozens of species of warblers, many yellow ones with almost identical markings, give or take the lack of a stripe here or an eye ring there. Only the experts are able to sort them all out. I don't even try, as my eyesight is bad now, and even with field glasses, it's not easy to tell.

• United States
21 May 16
So wonderful that the thrush brings back wonderful memories. It is a beautiful bird.

• Saco, Maine
21 May 16
It is. It's very shy, though, so I was very lucky to see this one.

• Los Angeles, California
21 May 16
Good photo. You are fortunate to experience a variety of birds outside your windows.

• Saco, Maine
21 May 16
Yes, I am. Got this shot at the bog, which is about 3 miles from here. Thanks!


• United States
21 May 16
thank you much for this interesting story.I love anything to do with birds.Your link did not show?

• Saco, Maine
21 May 16
It opened up into the link for the website, Fredo. Check it out. And you're welcome!