Had a great time at the wedding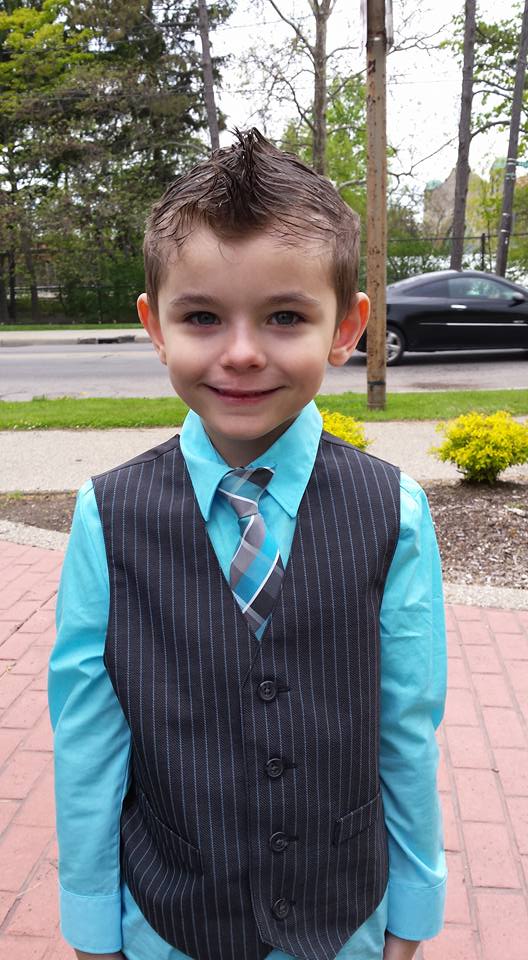 United States
May 23, 2016 12:45am CST
I went to my friend's wedding on Saturday, which was at our local zoo. We all had a lot of fun. My son loved it. We walked around the zoo for a couple of hours before the wedding, and my son was so excited to see all of the animals. We almost had to give him a talk about the facts of life after visiting the monkeys, but fortunately he didn't seem to notice. My kid is such a ham, he would stop and pose and ask us to take pictures, so we did. I was happy to see that it was a fairly small wedding with just close friends and family, which made life a lot easier for me with my anxiety. I knew several of the people, I didn't know everyone, but I definitely knew my friend's side of the family. Neither of them has a big family. When their "best men" both were girls gave the speech they handed it off to a couple of other people and then asked if anyone else wanted to talk and my friend looked at me and I hurriedly looked away, because there was no way I was going to speak especially not having planned to. I am probably one of my friend's oldest friends that was there. Had I known he wanted me to speak I could have prepared something, but he never asked me, so I wasn't about to. I don't even know what I would have said. I've known my friend for so long, and I know him fairly well, but when put on the spot I'm not exactly a quick thinker. After the speech we all ate, and the food was amazing. We were placed with the other groom's sister and her husband and kids, which my son made fast friends with. My son called them his friends, even though he doesn't know any of their names lol. Most of the kids there were boys, there were I think 6 or 7 boys and maybe 3 girls. The 2 younger girls LOVED my son. The one especially latched herself to my son, and my son just didn't know what to do. She was trying to get him to dance with her, and then she clung herself to him, while my son wanted to be doing other things, I guess my son likes playing hard to get. I just sat back and watched, he was actually pretty polite about it. My son later told me "She wouldn't let go, and I just wanted to look at the fish!" My friend's reception was held in the aquarium at the zoo, it was pretty neat. My son also danced with an older woman. It was adorable. He also got to pet a stingray, which he loved. He asked the guy who was in charge of it a bunch of questions, and most of them were thought out. I was impressed with the kinds of questions he asked. My friend's sister came over and talked to us for a little while. I know my friend's family fairly well, as I've known them since we were in HS and they moved here from California. It was nice talking to everyone, but it really drained me. Before we left the little girl who had been clinging to my son all night asked my son for a hug, so he reluctantly let her hug him, but he really didn't hug her back lol. It was cute. My friend told me I was going to have a future heart breaker on my hands, and at this rate he might be right. My son seems to get a lot of little girls clinging on him. I think it's the eyes and the smile. My boy has long lashes with bright green eyes, that occasionally change to blue, and he has this smile that lights up his entire face including his eyes, when he smiles his eyes sparkle. It seems to draw all of the girls to him. Right now he acts uninterested, I guess we'll see how he is in a few years. I also managed to get one of my new favorite pictures of my son, and I got a bunch of good pictures of him as I swear he has a future as a model with the way he instantly poses and smiles, ironically he wasn't even posing in the picture, just smiling his handsome smile. We looked pretty funny walking around the zoo all dressed up. People were amused to see my son in a suit walking around the zoo. Ironically my son was the most dressed up among the 3 of us, and his suit cost less than anything we were wearing as I bought it at Walmart on clearance for 5 dollars, I joked with my boyfriend that our son was wearing his five dollar best, it was originally 20, but I bought it marked way down. Anyway we had a great time, and got to catch up with some of my favorite people. I miss my friend a lot now that he lives 2 hours away, but I'm glad he's happy, and I'm grateful for the time I do get to see him, something that I often took for granted when he lived closer.
3 responses

• United States
23 May 16
That's great! And your son is so cute! Love his hairstyle!

• United States
23 May 16
@sissy15
Looks so cute! He knows just how good he looks!

• United States
24 May 16
@zarlamain
Thank you, and yes he does know how good he looks lol. If I tell him he's cute he says "I know." The girls seem to like him, I'm not ready for that lol.


• Boise, Idaho
23 May 16
Sounds like a great time was had by all. Your son is adorable.

• Bunbury, Australia
23 May 16
Great that the wedding went off so well. Your son looks so cute!