Daily Bible Study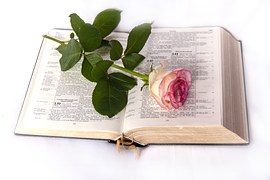 Green Bay, Wisconsin
May 23, 2016 9:19am CST
Day 65 Psalm 65 Psalm 65:1 < Praise waits for thee, O God, in Zion: and unto thee shall the vow be performed. 2 O thou that hear prayer, unto thee shall all flesh come. 3 Iniquities prevail against me: as for our transgressions, thou shalt purge them away. 4 Blessed is the man whom thou choose, and cause to approach unto thee, that he may dwell in thy courts: we shall be satisfied with the goodness of thy house, even of thy holy temple. 5 By terrible things in righteousness wilt thou answer us, O God of our salvation; who art the confidence of all the ends of the earth, and of them that are afar off upon the sea: 6 Which by his strength sets fast the mountains; being girded with power: 7 Which stills the noise of the seas, the noise of their waves, and the tumult of the people. 8 They also that dwell in the uttermost parts are afraid at thy tokens: thou make the outgoings of the morning and evening to rejoice. 9 Thou visit the earth, and water it: thou greatly enrich it with the river of God, which is full of water: thou prepare them corn, when thou hast so provided for it. 10 Thou water the ridges thereof abundantly: thou settle the furrows thereof: thou make it soft with showers: thou bless the springing thereof. 11 Thou crown the year with thy goodness; and thy paths drop fatness. 12 They drop upon the pastures of the wilderness: and the little hills rejoice on every side. 13 The pastures are clothed with flocks; the valleys also are covered over with corn; they shout for joy, they also sing. What makes you happy? What do you have to be grateful for? What makes you sing? What puts a smile on your face? David found many reasons to rejoice and be glad and all those reasons were God's blessings. God hears our prayers God purges our transgressions God chooses us and we will always be with him God answers our prayers God is our salvation God gives strength to the mountains God calms the seas God causes the day and night to rejoice God provides rain God provides food God blesses the year from beginning to end God provides our wealth When you consider David's list of blessings and the things he was grateful for, how does his list compare with yours? Do you have a heart of gratitude for all God has given you? Or do you consider what you have as something you provided for yourself without help from anybody else? People like to control their lives. When they look at their achievements, they recall how they came by those achievements. God gives you gifts and talents so you are able to achieve those things in life that bring you satisfaction and happiness, but do they bring you joy? Romans 11:29 For the gifts and calling of God are without repentance. (KJV) God gives us all things to enjoy. He gives us our wealth. Deuteronomy 8:18 But thou shalt remember the LORD thy God: for it is he that gives thee power to get wealth, that he may establish his covenant which he swore unto thy fathers, as it is this day. Without God you could do nothing. Without God, your life would be forfeit as it is God who makes your heart beat. Now look at David's list again of everything he was grateful for. Is your list the same as his? Is God at the center of your life? Give God praise today for all he has done for you. Let's pray: Father, I rejoice and give you praise for being the reason for my joy. Help me to be grateful for the many blessings you give me, and never forget you gave me my talents and gifts so I can be a blessing to others. In Jesus' name, I pray, amen. Copyright © 23 May 2016 by Valerie Jean Routhieaux Image courtesy of Pixabay
6 responses

• United States
23 May 16
I'm not sure that "happy" is even in my vocabulary these days. I can feel contentment and some amount of peace, and I know that comes directly from God as I continue to grieve. I thank God every day and night for the blessings I receive as I try to figure out what to do with the rest of my life. I feel like I have no purpose anymore. And yet, I'm here, so there must be a reason. And God will point it out to me one of these days when He knows I'm ready. And maybe then I'll find my happiness again.

• Ireland
25 May 16
My list is a bit different every day. good weather has been featured a lot lately. Usually followed by the successful completion of my projects. The reassurances I receive whenever I worry about random things in the future. Also the work am about to do that day, and how effortlessly I always get it done. I have noticed I simply cannot work efficiently without a prayer first.

• Green Bay, Wisconsin
26 May 16
That's the way it should be. I know that my day goes to seed if I don't do my Bible Study every morning first thing, and yes, I am always praying.

• Ireland
27 May 16
@just4him
indeed, ya definitely helps to tune my mind

• Green Bay, Wisconsin
27 May 16

• India
24 May 16
I don't think whatever I have is my own doing. Although I believe that if we won't help ourselves even God wouldn't help us. That doesn't mean the credit is ours. Either good or bad it's God's will.

• Ireland
25 May 16
Indeed, we should do what we can for the day, or for a specific problem.. then leave the worry and so on to God.

• Roseburg, Oregon
23 May 16
I am grateful for what I do have and happy for who I am.


• Green Bay, Wisconsin
23 May 16
That's good. We all need to be grateful for what we have. We might not have it tomorrow.


• Green Bay, Wisconsin
23 May 16
Admitting it is half the battle.