I hate it when I sound like Debbie Downer from SNL..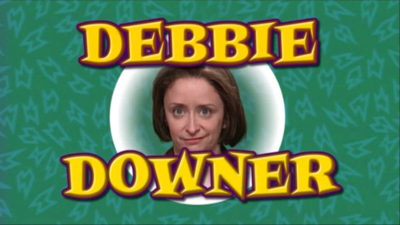 Philippines
May 23, 2016 9:40pm CST
Do you guys know Debbie Downer? Yeah.. her. I have this friend who often tease me by calling me Debbie Downer. She's the SNL character who always seem to find something negative to say even when everything seems alright and happy. She would go to a certain group of people or friends and dampens the mood by saying something that is a general concern or general problem like world hunger or something. I have that tendency and I hate it. My friends would go talking about some simple symptom they have and I would be distantly observing everything as if assessing their entire physique and asked them questions like would a doctor do. Then I would say something really foolish, maybe you have (insert a terrible disease here). I say it without thinking :( they usually laugh at me when I do that but I'm trying to get rid of it.. it's bad, I think.
5 responses


• Philippines
24 May 16
maybe that's not real her in real life, just for the show. try to be an observer next time.

• Philippines
24 May 16
Oh, seems you're a killjoy. Be positive always no matter what.

• Banks, Oregon
24 May 16
Lol yes you should try to be more positive