Do you plant HERBAL plants at home also?

May 24, 2016 12:11pm CST
@31 I do plant some useful herbs at home for medicinal use. I can save some medicine fees. One plant is the Toothache plant,Spilanthes acmella Almost every week I pickthe leaves. The most common use is to treat toothache and throat and gum infections. The plant is further recommended as a cure for dysentery and rheumatism, and to enhance the immune system. It increases the flow of saliva and is useful in fever especially during summers. It is used against blood parasites, especially against malaria, both prophylactic and curative. The leaves and flower are hot, can be eaten like salad. It stop pain and itchiness in seconds.
9 responses

• Vancouver, Washington
24 May 16
Wish we had somethings like that I wonder if they would be available here in washington


• Cagayan De Oro, Philippines
25 May 16
@Chungshop
n wow, you are very active on herbal, Sir.

•
25 May 16
@cacay1
I just start to blog I hv herb blog too. I like to share what I have collected in the past 12 years in my coming blog Do support lo. If you know some knowledge do share to me. Tq While I was in Cambodia, I try to start plant herbal plant project but lack of fund and support I failed

• Cagayan De Oro, Philippines
25 May 16
@Chungshop
I will support your blog, just signal me.


•
25 May 16
I wonder if we have that kind of plant in my country. Yes, we have herbal plants at home.It is Malunggay or Moringa. At my parents' house they have more medicinal plants because they have spacious garden. Malunggay, gauva, Ashitaba, are among the herbal trees they grow.

•
25 May 16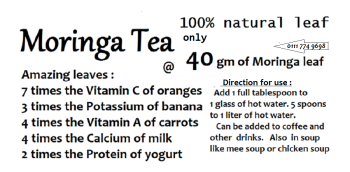 Good you have some useful plant also. I plant quiet a number of Moringa trees and gauva too. I collect Moringa leaves for extra income and make into tea form. Gauva leaves believe can stop diarrhea too by taking the juice from leaves

• Cagayan De Oro, Philippines
25 May 16
We have many malunggay in Ph.

•
25 May 16
@cacay1
yes I am following Sales online too



•
25 May 16
I don't know which area you are, country side or town. Can be found near places with water small drain,farm.shade Asian plant Look out for the yellow flower (they grow in the bush also) the flower n leaves are hot when you bite. This plant easy to survive, I brought this plant to Cambodia for 2 days journey without root as long it has water (I kept in a container with wet tissue) I hope you can find plant as a matter of time When ripe the flower have tiny black seed.

• Philippines
25 May 16
@Chungshop
.. I really do not know if we have that plant here. Or maybe we have, but then we do not know that it is the toothache plant. I haven't heard or learned about it from my parents too.

•
25 May 16
@magallon
O great news then, just watch the small yellow flower and taste.when you are outdoor. You feel spicy or hot, same with the leave .Surround is wet. Take the whole plant and keep in water, plant survive also without root, put in a cup of water for few days you see the roots blooming. (pregnant not allow)


• Rochester, New York
24 May 16
I have tried, but I can't get them to grow and bloom. They always die shortly after they break through the dirt.

•
24 May 16
May I know what plant. Can I help !

• Cagayan De Oro, Philippines
25 May 16
@LisaSteinmetz
, Oh, I see, the more here in Phils. It might not grow, if grow might not well.

• United States
24 May 16
thank you for the education on this very interesting


•
24 May 16
I think you can get it. AKARKARA (Spilanthes Acmella) is a valuable gift from the nature to living being. Can be planted in flower pot , plant need more water. Can be found in drain where water is, this plant survive near water

• India
24 May 16
@Chungshop
and what are its basic medicinal usage?

•
24 May 16
@nomus24g
by the name itself toothache plant is for tooth pain, besides for external use can stop itchiness, prevent infection., wounds and cuts Whole plant are spicy and hot. Stop cough and interest infection. The leave can be used as mouth cleansing solution, stop bad breath caused by bacteria,


• Cagayan De Oro, Philippines
25 May 16
Which part of this plant is best for sicknesses? I will inquire in our community garden if they are selling toothache plant.This is very informative post.

•
25 May 16
By the name itself Toothache Plant you know already, can heal most sickness in mouth like ulcers, swollen gum, tooth pain, sensitive teeth (drinking cold), bad breath caused by bacteria. Further stop cough fight asthma. Stop itchiness. (Some caused by certain fungus, so less take food contain a lot of yeast like bread, apply to secret itchy parts too, A quick release) Stomach and interesting infections External use for cuts and wounds. Can be eaten as spicy salads. More info in my next post/blog Tq for taking your time to read this message, Have s smile


• Philippines
26 Jun 16
Very informative post. Thanks for sharing.