Is this the tradition?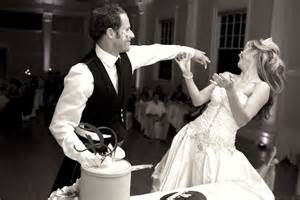 Guangzhou, China
May 25, 2016 10:13pm CST
From the TV, sometimes I can see that in the foreign wedding ceremony, the bride and bridegroom will throw the wedding cakes to each other. I must say it not only waste the food, but ruin the bride's elegant look. But I wonder perhaps this is the tradition.
7 responses

• Garden Grove, California
26 May 16
bI have never heard of that tradiition here in the USA but here the bride throws her bouquet and the one who\catches it is supposed to get married soon s




• United States
26 May 16
No, this is not a tradition. It's not very romantic either.

• United States
27 May 16
@youless
Exactly. There is nothing romantic about ruining someone's suit or dress. So strange.

• Roseburg, Oregon
26 May 16
I never heard of throwing the wedding cake to each other.

• Philippines
26 May 16
no its not tradition, this is just for fun

• Philippines
26 May 16
is this just a tv show or reality? i havent experienced this.. usually its just throwing of flowers :)