Brown Derby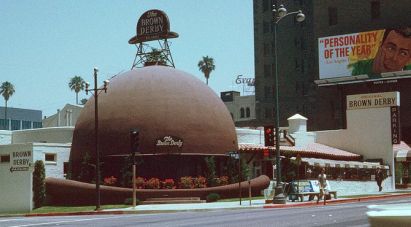 United States
May 26, 2016 9:34am CST
Years ago I went to work at the Brown Derby restaurant in Cleveland, Ohio as a waitress which I did for about 6 months. Being a waitress is not an easy job as you are on your feet for hours. I made good tips and had a lot of very distinguished customers. They were a closed company meaning that you Had to join The Union. After 6 months I had a dispute with the Union Rep. and decided to give my notice as why should I pay dues when nothing was being done. I had told myself I would never again join a Union and I never did.
8 responses

• Perth, Australia
31 Jul 16
@Marcyaz
I have only been a waitress like once. Literally one night as a trial. I hated it. I know I could have done it fine when I was used to it but there were some guys who were chatting me up and it made me feel very uncomfortable. Plus, the other girls who worked there encouraged me to unbutton my top to get them to keep buying drinks etc. I didn't want to parade myself around like that. Especially when having a boyfriend and all. I wouldn't do it even if I was single anyway.

• India
30 Jan 17
@VivaLaDani13
I think I have said it before. You are born in the wrong country and period dudette!

Come over here! Did you ever try behind the scene jobs?

• Perth, Australia
2 Feb 17
@Daljinder
Behind the scenes? Example?


• Perth, Australia
2 Feb 17
@Daljinder
I've thought about it. But doesn't seem all that thrilling to me for some reason.


• United States
26 May 16
I always heard that was the best way to protect your job. i don't know though.

• United States
26 May 16
@sharon6345
Maybe if there would do something for the money they are beind paid.

• Moses Lake, Washington
26 May 16
@sharon6345
My husband has to work in a union. When a person from higher up gave him a problem, he got ahold of a union rep and the issue was fixed.



• Los Angeles, California
26 May 16
That photo is the original Brown Derby across the street from the Ambassador Hotel where the Coconut Grove was. The Derby with its iconic hat architecture was tragically torn down decades ago and the Ambassador ceased in the 90s.

• London, England
26 May 16
@JohnRoberts
I've heard of the Ambassador, it has featured in a couple of films I've seen of Noir Hollywood and LA

• United States
26 May 16
What a cool looking place that is! I couldn't be a waitress as I'm way too clumsy.

• United States
26 May 16
@susan2015
It is not something I ever wante to do again and I never did.

• Centralia, Missouri
28 May 16
if they are done right I see them being useful, but often they are simply not

• United States
28 May 16

• United States
26 May 16
I had to join the teachers union in my school district, and I must admit that the folks who held office in that union were rather nasty and quite vindictive. Some were downright evil!

• Moses Lake, Washington
26 May 16
Waitressing is very hard work. It sounds like you had some good times, though.