Spaniards Inn for Refreshment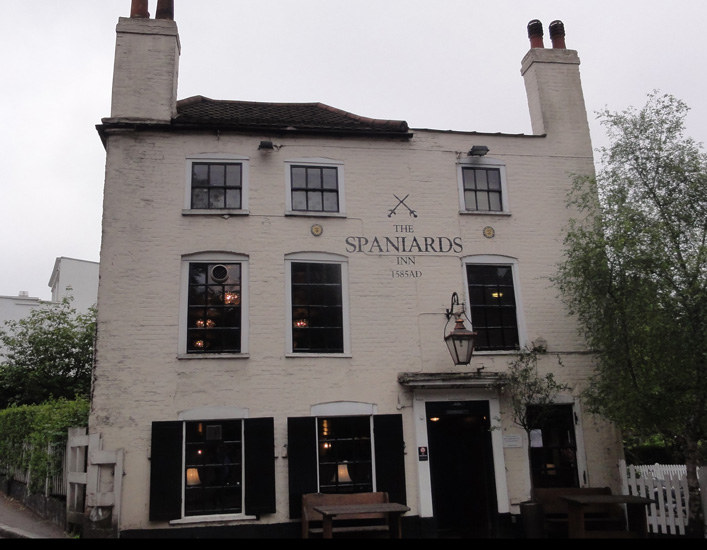 London, England
May 26, 2016 12:26pm CST
The Spaniards Inn, on the edge of Hampstead Heath, proudly proclaims it was built in 1585. The heath was notorious for highwaymen. Some two hours, by coach and horses, from London the Spaniards was a fine vantage place to wait for victims to pass by. Dick Turpin is said to have been a regular and his father is supposed to have been the landlord at one time. The poets Byron and Keats were regulars, with Keats writing Ode to a Nightingale in the garden, they say; whoever they are! Charles Dickens mentions the pub in The Pickwick Papers and it even appears in Bram Stokers Dracula. With an interior panelling of dark wood and stone flagged floor, it has the feel of a cosy country pub and a pint of Doom Bar that hit the spot after a couple of hours exploring Highgate West and East; not forgetting a fine fish finger bap supper.
7 responses

• United States
26 May 16
Nice to see this lovely old place Ron. So happy you share the sights with us here. The age of these places is astounding! The only one I recall I had been to was the Eagle and Child, Oxford where Tolkien wrote.

• United States
27 May 16
@Ronrybs
Hope you may get there one day Ron..its truly lovely.

• London, England
27 May 16
@TiarasOceanView
Just gets added to my list of places to see, that ever expanding list


• Los Angeles, California
26 May 16
1585! That actual building or just the name and location? No way the original structure could have survived.

• Los Angeles, California
26 May 16
@Ronrybs
Hampton Court is a palace so measures were taken to preserve. I have visited there.

• London, England
27 May 16
@JohnRoberts
True, but unless they were destroyed by the great fire a lot of these old buildings are looked after.



• United States
27 May 16

• Colorado Springs, Colorado
26 May 16

• Preston, England
21 Jun 16
certainly sounds a pub worthy of a visit