Not Knowing That I am Strong

Philippines
May 27, 2016 2:36am CST
" You never know how strong you are Until being strong is the only choice you have" This is the quotes that I have on my table. I was not able to get the name of the author but I like to read it again and again. This is the exact thing that happened to me. I became spiritually and emotionally strong when my husband died and left me alone to rear my children. I was able to surpass all the difficulties and challenges that I have encountered. Now, I am reaping the fruits of my perseverance and labor. The fruits of being strong which I did not know that I have.
7 responses

• New Delhi, India
27 May 16
This is very strong of you.It's like life is full of many uncertain circumstances and many situations that motivate us to lose all the hopes and desires of a better future.In those situations should never forget the things and people we have in our lives and all the things that we have for which we should feel blessed.We should see the positivity in every situation no matter how intense they may be .They make us challenge our potentials and capabilities and make us evolve into someone more productive. I'm seriously proud of who you have become as a person.


• Philippines
27 May 16
Thank you so much. During those times of hardships, giving up never really came to my mind. The thought that I have children to fed and support made me fight every challenges. Of course I have my parents and siblings who also helped me through. I am proud of myself. I did it.


• Philippines
27 May 16
You are strong, it just appear when you need it most.

• Philippines
27 May 16
@magallon
human being, this is what we are, we are strong

• Philippines
27 May 16
@ilocosboy
.. its our survival that made me strong. there were times that i cried, but i never gave up.

•
27 May 16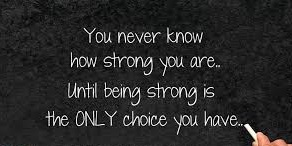 "You never know how strong you are, until being strong is your only choice." — Bob Marley Be strong and Firm, Never Give Up

You have done the best Rely on HIM Put All trust On HIM#



• Philippines
27 May 16
That's great that your have survived all the trials in your life.

• Cagayan De Oro, Philippines
27 May 16
Sorry dear to know your so young to be a widow.God sees all your sufferings and He is you strength.