The Fate of Man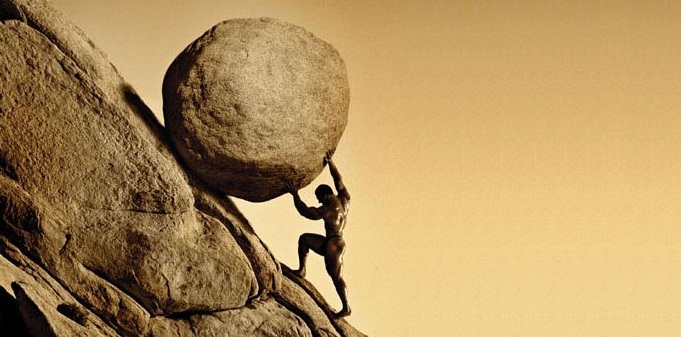 May 29, 2016 8:08am CST
Do you know of the legend of Sisyphus? Sisyphus was a Greek king who was cursed to push a heavy boulder atop a cliff. When he got to the top of the cliff the boulder would fall down and he would have to repeat the process the next day. And yeah he was supposed to do this for the rest of his life as a punishment decreed by the gods. The allegory of Sisyphus is often compared to the eternal struggle of mankind. It goes like this. 1)We have a problem 2)We take great pains in solving the problem 3)We solve the problem 4) We are relieved 5) Go back to step 1 That is basically the pseudo code for all our lives. It is an eternal struggle. Ironically we can see Sisyphus smiling in his difficult task, he is content on defying the will of the gods. Can the same be said for the rest of mankind? Just wanted to share my philosophical ideas Share your thoughts :)
7 responses

• Philippines
29 May 16
I think so.. we sometimes welcome great trials with the great faith.. we know that God will not be giving us trials that we cannot overcome. And if in times when we think we can't he always gives us a way through it. And whenever the greater the trial is and the greater we overcome it we became stronger.

•
29 May 16
Yeah I red that somewhere in the bible, just cant remember the verse.

• Philippines
29 May 16
@Dramista
same here.. hahahha I just keep holding that words deep in my heart and consider them as my guiding star. But just couldn't remember to which part exactly of the Bible was it written.

•
29 May 16
@jndlponti
Yeah guess all those days in church didn't help us remember the verses:)



•
30 May 16
Haha, Its a modern take.. Wait don't you mean the cubicle?

•
30 May 16
@akalinus
Yep, look at Sisyphus and all that muscle!! Most of us probably have back problems sitting on a computer all day long

• Austin, Texas
7 Jun 16
So? Our entire life is just multiple problems rolled up into one huge problem or an "eternal struggle". (Sigh.) Nope. I don't buy it. It's got to be more to life than that. People should be able to work and enjoy the fruit of their labor and live in peace. I believe it can be done. I prefer that philosophy as opposed to believing that life is just a constant struggle day in and day out. Whew! Makes me tired just thinking of it that way. Sisyphus should have figured out an easier way to defy the gods instead of doing back-breaking work and not getting anything accomplished. Like … everyday chip away at the stone so it gets lighter.
Just sayin'.
You said share my thoughts.


•
7 Jun 16
Its cool I share your kind of optimism but you should know that men will be men and that they take the mentality of the warrior for any form of hardships or problems are either viewed as a challenge to overcome or an enemy to be destroyed this is how most people with warrior mentality thinks like especially when it comes to a warrior civilization such as ancient Greece.

• India
29 May 16
Have you read quran. If you read quran translate of your language find more phylosophical thoughts

•
29 May 16
I have copy, haven't started yet. Can you give the general lesson or idea of its lessons? For Christianity its to trust in God. In Buddhism its that we are all connected Note I'm only making generalizations on what I've learned and red from the texts

• Nairobi, Kenya
29 May 16

•
29 May 16
Its good to review the classics once in a while, it has many topics regarding the issues of existence and life

• Hyderabad, India
29 May 16
The Life first give us reason to live on , that reason is how we take in positive way or negative way , depends on that we face the thing . like example the person who hold knife can do 2 thing positive way to become a doctor to cure disease and negative way is he can be a killer

•
29 May 16
We always have a choice, to do good,bad or whatever the hell we want :)