Always be a Little Skeptical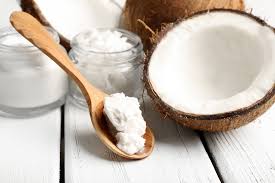 Kingston, Jamaica
May 29, 2016 11:59am CST
Some years ago, the news was full of the 'unhealthy' nature of coconut oil. Every place you looked, there were warnings not to use coconut oil. Since I have a whole brain for myself, I am more likely to trust my experiences and thoughts than that of advertisers. Even so called 'medical' people. In country there was this woman called Miss Aggie. One day, when I was hanging out the baby diapers she ran up the hill grabbed my diapers and began rewashing them...saying "ya nah wash clean.." I didn't know her. She was old, had a cigarette in her mouth, and was moving very quickly. I was called by Grandma who 'traced me' (scolded me) Miss Aggie was the Scandal of the district because she was along with a 'young bwoy'. Miss Aggie, with the hearing of the bat, runs over and gets into an argument with Grandma about this. The upshot was that Miss Aggie was 99 years old and could not find any many in her age group to 'service' her so was along with a 'young bwoy' of 69. That Miss Aggie needed 'servicing' that she could run up the hill, that she had good hearing, made her my idol. Miss Aggie, as did Grandma, made her own cooking oil. This was done with coconuts. We didn't buy oil (we didn't buy a lot...A LOT of things...as we grew what we ate). I always used coconut or olive oil. I ate it, used it on my skin and hair, put it in my baby's bath water, put it on my baby. When I went to town, big modern town, I would buy coconut oil, ignoring all that vegetable oil stuff on the shelf. When I heard the big news about coconut oil being 'bad' for me and vegetable being 'good' I ignored it. I ignore a lot of advertisement and a lot of so-called Scientific 'evidence'. I always have a bit of skepticism. That is because I am not 'selling' anything.
3 responses

• India
29 May 16
We use coconut oil in daily life. That is the first time hearing that it is dangerous. lol

• Kingston, Jamaica
29 May 16
America didn't reach you yet! We used coconut from day one. Then, suddenly we hear about this 'healthy' vegetable oil and how bad coconut is for us. Well many of us didn't listen...but enough did. You go into kitchens and you'll see that horrible tasting rubbish of 'vegetable' oil.


• Kingston, Jamaica
29 May 16
look at this foolishness. Coconut oil, like olive oil is good for you. Vegetable oil is not, never was or will be.

In the world of heart-healthy diets, coconut oil has long been on the "do not eat" list because of its high saturated fat content. Recently, however, it has been in the spotlight ...