Why Did I Even Bother?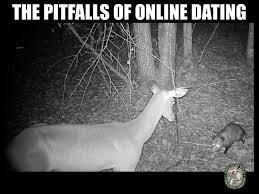 Saco, Maine
May 30, 2016 9:17am CST
Many years ago, when I became comfortable using a computer, I gave online dating a try. I was newly single at the time, and wanted to make a big change in my life. First, I tried chatrooms, and that led to some pretty strange (and sometimes very scary) encounters. Then, I finally did enter a real relationship with someone I'd met online, but that ended, too, when he decided to leave the state without me. Not that I would have followed, mind you, as there were just too many red flags about this guy to make me want to make that big of a change. Suffice it to say that, while we were together, we had a lot of fun, and we have remained long-distance friends. Every so often, I get mildly curious about what the online dating scene is like now. There was a time when you could search singles lists for not much more than registering a screen name and a password. Now, even though they describe themselves as "100% Free," they are anything but. They may be "free," but the time involved in creating a long detailed profile is simply not worth the bother. I can't remember the last time I did this, but I was amazed to see many of the same old faces of men who'd haunted the singles lists way back when I first tried it in the early 2000's. I took a peek at them again this morning, and realized that nothing has changed, and that unless someone is really interested in meeting someone, which I am not, then it's not worth spending time on a profile. I did try one chat room, which lasted about 2 minutes after a private message popped up asking me "A/S/L," which for those who aren't familiar with chat lingo, means "Age/Sex/Location?" I laughed out loud (LOL) and signed off after telling this "Ex-Navy-Seal" that I was 66, female, and somewhere in New England...He disappeared immediately. Guess he wasn't interested in dating someone who was almost old enough to be his grandmother!



(Public Domain Image)
9 responses

• United States
30 May 16
I keep being told that 'Single Females in Olney Want to Hook Up'...Scar told me to ignore them

• Boise, Idaho
30 May 16
Online and the chat rooms and singles sites used to be a lot different. I tried them all out too. I was sort of interested back then(about the same time you did) but had some really bad experiences. Haven't chatted or entered any singles sites in several years. I have talked to several gals who met and married from online sites.

• Saco, Maine
30 May 16
The Yahoo chat rooms were the best back then. I'd spend hours both day and night in them, and met a few men that way. In all but one case, it was a total disaster. I still laugh when I think of some of the trolls I met that way. It is possible to find love there, but that was not my experience, and I am just fine with that.

• Boise, Idaho
30 May 16
@Raelove
.....Same here. It was a learning experience and quite a adventure.

• Saco, Maine
30 May 16
@celticeagle
It sure was fun. I think back on it now and on who I was back then, and it's like, "Who WAS that woman?????"




• United States
30 May 16
Some would be interested though. My husband started the conversation regarding dating after I left a relationship that I had wanted out of for many years. Made me a little curious about him. We had chatted quite a bit on Facebook and became friends long before I left my ex-idiot. It wasn't until I left that we became more than friends. We have been together 6 years and will be married 5 years this July. He is younger than me. Some would call me a cougar. I did not pursue him, he did me.

• Saco, Maine
30 May 16
LOL. I've heard of lots of relationships that grew from an online encounter and that are successful. At this point in my life, I just don't have the energy!



• United States
30 May 16
@Raelove
they often happen when you least expect them to happen.

• Saco, Maine
30 May 16

• Bunbury, Australia
31 May 16
My nephew and his now-wife met at a speed-dating session which is a bit different I know but sometimes these sorts of encounters work.

• Saco, Maine
31 May 16
All depends on the individuals involved.

• United States
30 May 16
Just be careful.You have a lot of wacko on these web page

• Saco, Maine
30 May 16
Fredo, online dating, or ANY dating, for that matter, is far from a priority for me now. I was just curious as to how much of a jungle it still was out there, and I wasn't wrong: it's more overgrown and weedier than ever! Thanks, dear.



• Saco, Maine
30 May 16
It sure is. And then there's the smarmy eHarmony.com. Just the guy in the commercial makes me NOT want to try it.

• Northampton, England
30 May 16
For all you know, he might have been older than you and the only thing he had in common with a seal was lots of blubber.


• Paso Robles, California
27 Mar
I might as well revive this old discussion. I do know someone in the real world who did meet his wife on such a site and he appears to be happy. I'm glad I'm not looking any more.