Checking in again after a looong absence!!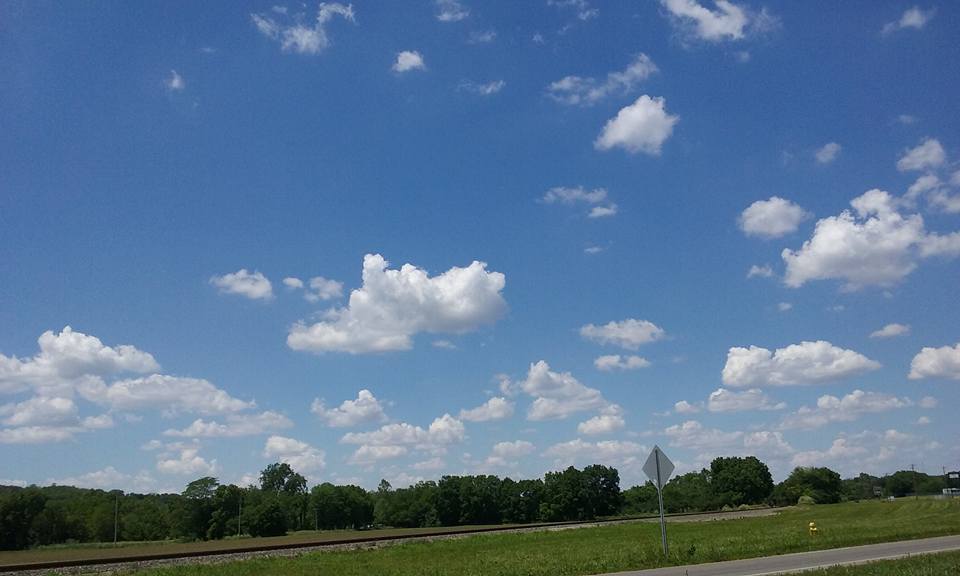 United States
May 30, 2016 2:38pm CST
Hi everyone, long time no "see:, lol. I have been really busy with my Swagbucks and watching my great grand babies, so I didn't have hardly any time to do anything else. I am definitely getting too old to take care of a 1 yr old, a 8 yr old and a 10 yr autistic boy. Well they are all gone to South Florida now, so I can catch my breath, lol. So how has everyone been these last couple months? I hope your weather is nice, it has been gorgeous here in SW Ohio. Lots of sunshine and hot enough to have to use the AC in the afternoon although we get a quick shower almost every day. The pic was taken today of the Clouds in front of my house. Well I'll be going now, will be back in a little bit to check out y'alls discussions.
10 responses

• El Paso, Texas
30 May 16
I couldn't handle 3 kids anymore, I used to babysit my nephews but I was in my late 30s at the time, now I woodn't wanna mess with kids anymore. Hey, I have furbabies, that's all the mess I need





• El Paso, Texas
1 Jun 16
I can't even imagine
@gr8nana6
I remember how hard it was on mom when she babysat my nephews, she was 72 and the worst part is that she was never properly compensated, they could have taken her on an enjoyable outing but that never happened.


• United States
31 May 16
Watching great grandbabies is a good excuse.

Glad you are back, I thought you were not here as often, but didn't know if it was because I miss your posts that I wasn't seeing you. I guess you already know what I have been up to, if not from here, then from Facebook. I "walked" with my class at the beginning of May, surprised that I graduated with honors, and taking a break from my writing because I just have no motivation. I am also working on getting my foot problem straightened out, which is the reason I am in your area 1-2 times a month, my doctor is on F street, then we usually fo to Jungle Jims afterwards. However, next time I want to go to Payless shoe store, because I know they have my dance shoes (Yes, I am going to start back into dancing, doc said I could as long as I ice before and after

) and they might have other shoes I need (I had to get rid of more than half my shoes that didn't fit the criteria my doc gave me). As for the weather, same as your of course.

Been doing some gardening and either today or tomorrow I am digging up some flowers for my Pastor's wife who is creating a garden and wanted some of my plants I offered her.

• United States
1 Jun 16
Yes I read where you graduated, congratulations on that.I am sorry to hear you are having foot problems, hope it can all be straightened out. I am going to try and see if I can get one of my girls to drive me, so I can meet up with y'all next time you're in town. Sure would love to see you again. I am not doing any gardening this year, except maybe plant a few flowers in my flowerbox

• United States
1 Jun 16
@gr8nana6
Thank you, I am really glad it is over and I got Facebook memories to remind me of what I went through.. lol My foot will be fine, just got to do a lot of stretching and icing if I want to continue to dance and yeah, I want it bad enough I will do that. Gardening session was cancelled, so I will spend the day doing odds and ends and then later we are taking Ciara to the vet, because the gov now requires a vet to see a dog for an ear ointment, even though the vet knows that she is prone to ear infections.



• United States
30 May 16
I use SB's for searching, that's about it...I can't find anything there worth my time. I prefer CrowdTap...been getting about 3 $5 Amazon cards a month.

• United States
1 Jun 16
@gr8nana6
I found them all to be a waste of time. I do better shopping and getting their points and more fun too!

• United States
1 Jun 16
It's nice to see you again.

• Bunbury, Australia
31 May 16
Welcome back again. Sounds like your baby-sitting job was pretty full on. I'm sure the parents were glad of your help.


• United States
30 May 16
Well that explains your long absence, we all get so worried when we don't see people on and we don't know why.


• Roseburg, Oregon
30 May 16
At least you get a break now that they are gone.