Gorilla killed in Zoo in Cincinati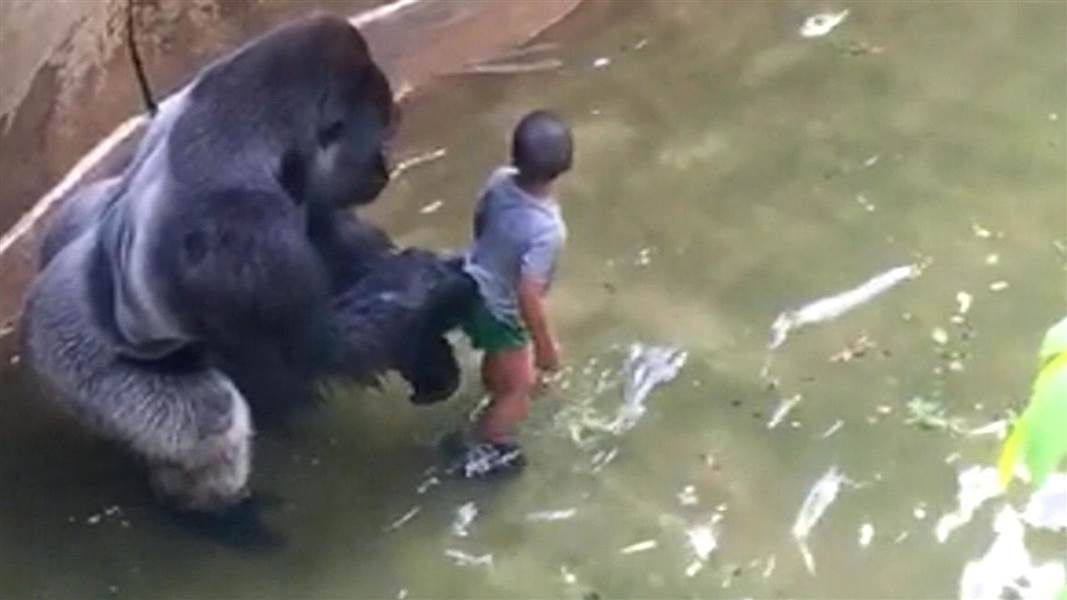 Serbia
May 30, 2016 5:55pm CST
I just saw this video on YouTube that is getting extremely popular. Gorilla killed in zoo because of irresponsible mother that did not watched out for her child. Kid fell near to gorilla and poor animal did not even harmed to little kid. Gorilla was 17 years in that zoo. Animal rights activist protested today and people mostly hold boy's mother as responsible for situation that happened. Petition, that was called for the parents of that 3 year-old-boy to be held responsible for the death of gorilla Harambe, already gathered about 138.000 signatures by Monday afternoon. #JusticeForHarambe picture from: www.nbcnews.com
7 responses


• Philippines
31 May 16
@LadyDuck
they are inexperience and should be given investigation

• Switzerland
31 May 16



• Serbia
31 May 16
That is right, they killed poor not-dangerous gorilla... Parents should go to prison for this together with zoo employers..

• Hyderabad, India
31 May 16
The Zoo people have a choose to use injection where Gorilla can make into sleep state and save kids , bad action taking to fast with out think bad part of the zoo authority staff member

• Serbia
31 May 16
Yes, that is the point, they did not made Gorilla to sleep, they shot and killed him..

• El Segundo, California
31 May 16
they should shot the gorilla with tranquilizer. not shoot to kill. what an idiot people!

• Serbia
31 May 16
Of course, or maybe just not to shot gorilla.. Gorilla was behaved very nice with the child, he was not a danger for little boy, very peaceful animal.. Sad... :(

• El Segundo, California
31 May 16
@Amel94
the real danger are the humans, for that poor gorilla


• United Kingdom
31 May 16
It's awful, but ultimately I'm glad the little boy came out of it unharmed - I've been to loads of zoos with my kids and can't imagine any of them being able to even get near the gorillas so maybe the zoo needs to have a close look at the walls/fences/enclosures as right or wrong on the part of the parents/child/parkstaff it should have been impossible for a kid of that size to get into the enclosure

• Serbia
31 May 16
I am happy for that boy too, it is very good that those people did not accidentally killed a boy. But I am still very sad because of killing that gorilla.


• Serbia
31 May 16
Very big shame.. Prison for employees and parents!

•
31 May 16
I felt very bad from chore of heart for the gorilla. I can not understand why did not they make him unconscious. Or any other arrangement can be made to lift the child up. Why kill an innocent animal? He was such a beautiful living being. Rest in peace. They have to explain and give an answer to this.