Do You Apologize?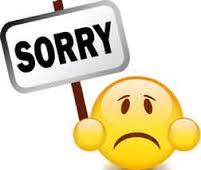 Philippines
May 30, 2016 8:37pm CST
If you think you have hurt someone's feelings and you really want to make it right, the only thing you can do is to apologize and mean it. Apologizing doesn't repair the relationship completely but at least you tried to mend the broken pieces. When you apologize, don't expect that you will be forgiven right away.Feelings take some time to heal. Is it easy for you to apologize? Do you accept the other person's apology right away?
6 responses

• Philippines
31 May 16
yes it was easy for me to apologize especially it was my mistake..and i do accept the person's apology it depends on the situation.. well everyone commits mistake. but if you did it twice and the same situation well thats another problem


• Vancouver, Washington
31 May 16
I would apologize and if that doesn't break the ice nothing more you can do but know you went right to the person and took care of it.

• Vancouver, Washington
3 Jun 16
@magallon
It makes more sense to be more responsible

• Philippines
31 May 16
When I was young, apology is one of the hardest thing that I do.. but when I grew older I realized what apology can do in every scenario's...

•
31 May 16
When we hurt someone and find we're wrong we seek apologize and we say;"I am Sorry" lo 'Apologizing doesn't mean that you're wrong and other are right. It just mean that you value your relationship more than your ego.' The other terms is forgive, you forgive other when they seek apologize too.. lo


• Chile
31 May 16
Apologies can help a lot if you do it from the bottom of your heart.