Regrets are always in the end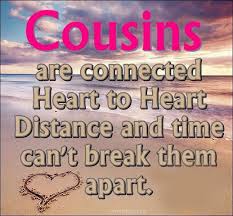 May 31, 2016 6:03am CST
I remember when I was a child, me and my only cousin in my mother side are not in good terms since we can remember. I am mad at her and consider her as my rival the same thing she feels towards me. We try to make it better. I reach out for her and she did the same. But unfortunately it didn't work out. I just realize it when I saw her in the hospital bed. She suffer from a kidney failure at the age of 21 or 22. I ask for her forgiveness though I know that its too late. She can't even say a word that time because she is in a comma already but I saw clearly a tears run down her eyes. I know from that moment that she already forgive me at the same time I forgive her. I really didn't know where that grudges starts. Maybe because of unfair treatment between us. Since I am older than her, I want to discipline her but they didn't allow me. Now that she's dead, regrets flows naturally from me. A lot of what ifs came rushing. I sometimes cry over her. Missing her though we really doesn't have that good and sweet memories. I cry over her favorite song, I cry if I remember her and I cry knowing that I cannot be with her ever. I dreamed of her, she tapped me on my back and when I look at her she was smiling so sweet at me with a glow all over her body. I tried to call her but she turn her back at me. But when I follow her she stop and hug me tightly then break it walk away. Right this very moment while typing this, I cried. I just missed her so much. Wherever she is, I know deep inside she is happy and contented. (Image from:

Screen-reader users, click here to turn off Google Instant. Please click here if you are not redirected within a few seconds. MoreEven more from GoogleSign in Google Instant is unavailable. Press Enter to search. Learn moreGoogle Instant is off due to conn
3 responses

• Philippines
31 May 16
It's time to move on. She has forgiven you and you have to forgive yourself so that you will have that peace.

•
1 Jun 16
I already moved on but there times that I just missed her

• Philippines
1 Jun 16
@ahann_coy
It's okay to miss her but you must stop feeling guilty.

•
1 Jun 16
@sunrisefan
I don't it's just that there are a lot of what ifs when it comes to her and of course I just missed her.



•
1 Jun 16
Yeah I miss her and I already moved on. Its just that there are times that she crossed on my mind and I can't help but feel those.

• Cagayan De Oro, Philippines
1 Jun 16
@ahann_coy
That is natural but time will come, you forget those bad memories.

•
1 Jun 16
@ida123
Yeah time will come. As what they say, time heals all wounds.

•
1 Jun 16
yeah I do miss her. but I know she's happy wherever she is now.