Round IS a shape!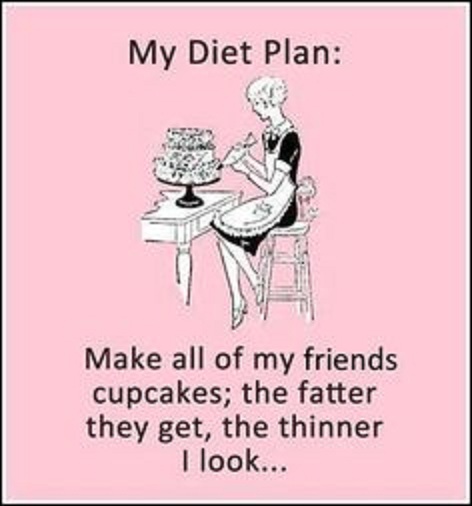 United States
May 31, 2016 12:57pm CST
Our youngest child is coming closer and closer to the day of his weaning. And as he does, I've noticed an interesting phenomenon. I'm getting fatter. You'd think I'd feel the urge to eat less now that my body doesn't need all those extra calories for producing milk. But, nope. It's been the opposite. And I'm starting to feel it. Now this isn't a discussion on my woes of being fat. In fact, it's the opposite. I'm one of those ladies that, while I would prefer to be thinner, can deal with the fat. When I ask my hubby, "Does this skirt make me look fat?" And he responds,"No, your fat makes you look fat." I laugh. Hysterically. The good kind of hysterically, that is. Some of my favorite quotes are "fat" quotes: "Goodness, girl, you so huge."--Moto Moto and Guy: "You're so heavy!" Eep: "Really? Thanks!" --The Croods Sure, I dream of wearing a sexy red dress. Or a sexy black dress. Heck, I'd love to wear a dress that didn't make me look like I was wearing a lumpy potato sack. But until I reach that day of jubilee, I'll just keep letting the seams out of my pants and be content with where I'm at. Oh, yeah. What are some of your favorite "fat" quotes that I can add to my collection? Are you happy with the size of your body, or are you planning on twisting the odds in your favor by making your friends fatter than yourself? How's that saying go? You don't have to run faster than the bear, just faster than your friend? Same goes with fatness and friends!!
2 responses

• Bern, Switzerland
31 May 16
Lol, put on a black number one evening for a night out,checked myself in the mirror and had to admit I looked like(me)the fat me. Soon after l got rid of everything, l just had to accept the fact l could never wear any of them again.Since then,my weight ig climbing and climbing.

• Bern, Switzerland
31 May 16
@Genipher
I never wanted to believe im big but i know I am.We were making jokes with friends and along the way we joked about what secret name we`d like to call each other so an outsider will not know, a friend suggested l take the name "big momma" l was horrified and disgusted. But a photo recently (first in 2 years) made me realize she was right, im big.

• United States
31 May 16
@miniam
You know, it's different when you make fun of yourself. Or even if your spouse, with permission, teases. With anyone else, eh, it can be touchy. Sounds like your friend put her foot in her big mouth. Did you come up with a code name for her?


• Northampton, England
31 May 16
My mother says "I'm not overweight - I'm underheight"