Is Jayitri or Mace spice good for health?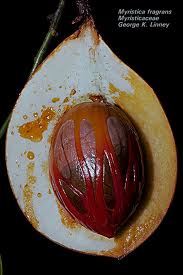 May 31, 2016 11:48pm CST
Jayitri or Javitri or mace spice is another Indian spice which has huge health benefits. It is made from nutmeg seeds. They are peeled of from the kernel, then flattened into stripes and then dried and sold in the market. It has essential oils, carotene, iron, calcium. Jayitri is useful for toothache relief. It can help in gastritis, nausea, and stomach problems. It is helpful in rheumatic pains and knee joint points, where oil of jayitri can help. It is found in Lava, Lolegaon in West Bengal, Munnar in Kerala and Sri Lanka.
1 response

• United States
1 Jun 16
I learn new spices from you. I've never heard of this spice.

•
1 Jun 16
Thanks Zarla for the comments, yes these spices add a lot of taste in curries.

• United States
1 Jun 16
I too never heard of this spice before either.